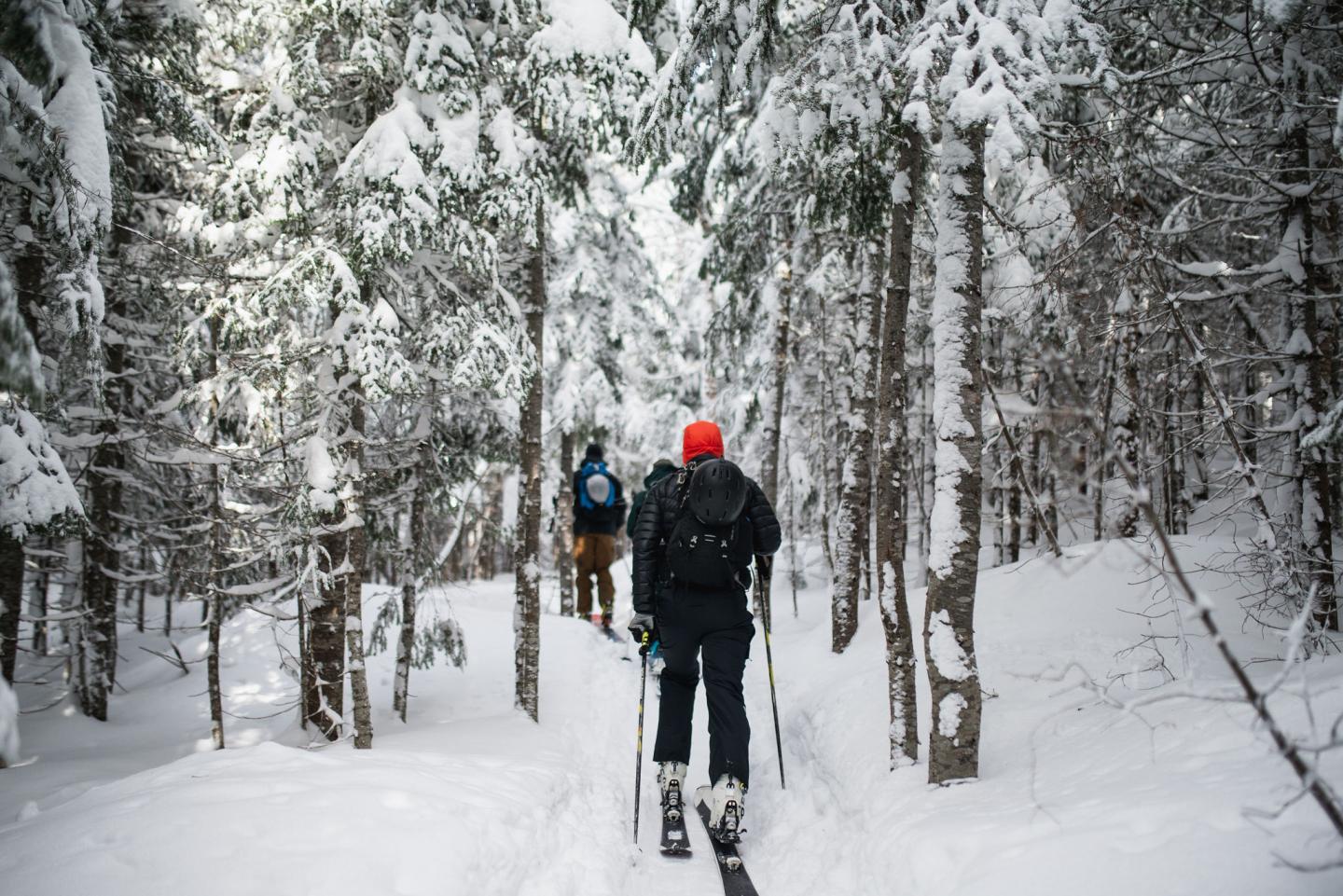 Being at the mountain − but in your own little bubble too. 
Craving an adrenalin rush − but introspection as well.
When fresh powder beckons but I still feel like escaping far from people and deep into nature, I simply slip my skins over my skis and set out to climb Le Massif. Sailing off at my own pace towards the summit of Mont à Liguori always fills me with a sweet blast of bliss (and heat!), while giving me time to really soak up the scenery that surrounds me. Pure pleasure!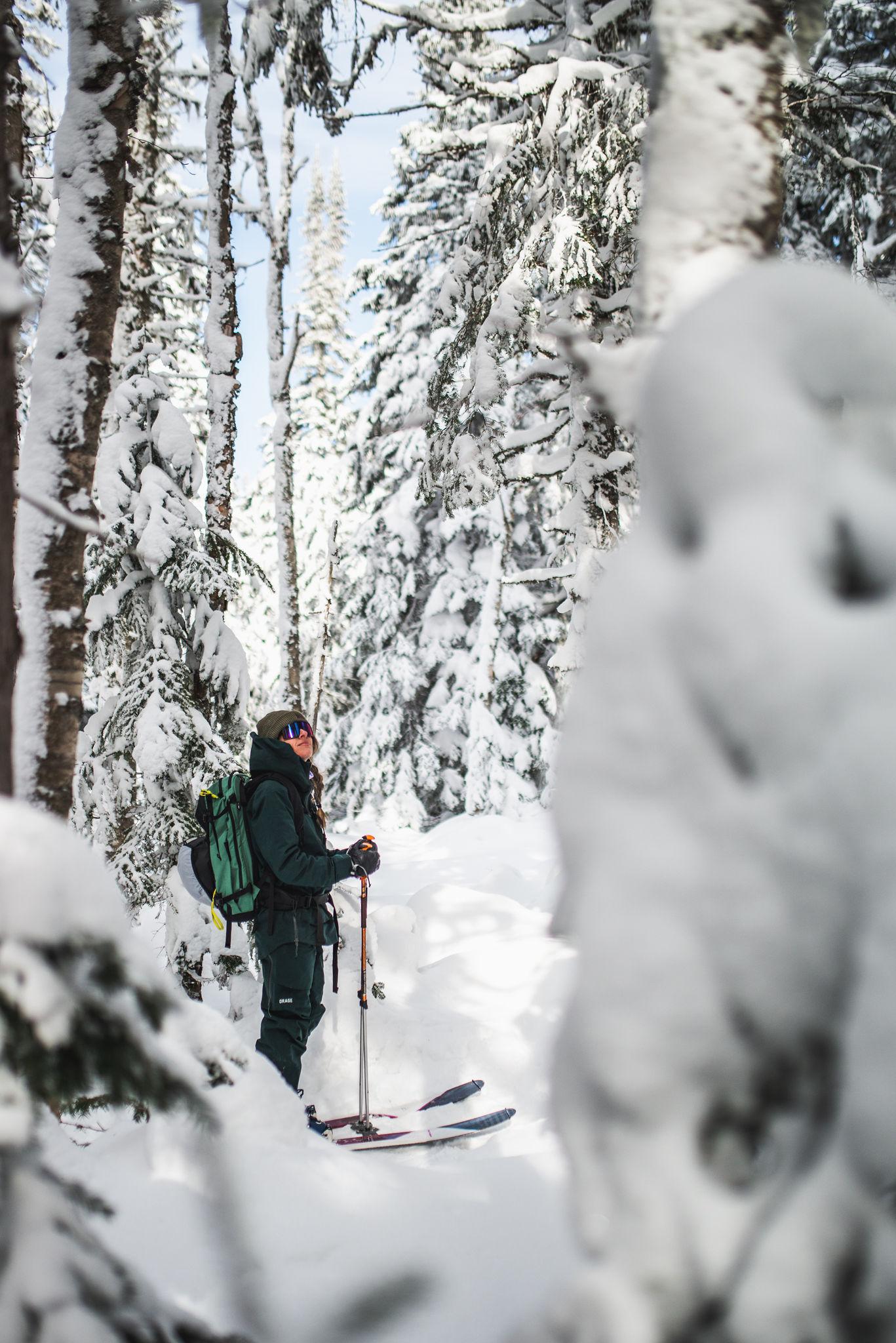 Feeling elsewhere
We hear it a lot, alpine ski touring is gaining in popularity since the pandemic. And particularly this season, it seems, as we are often told stories of line-ups, waiting and saturation in certain centers. Le Massif's off-piste sector has also seen an increase in traffic, but it still feels isolated and alone in the world. Perhaps it's because the resort is further from the big cities? Or is it because it offers several options for ascents that start at five different locations? This certainly spreads out the climbers on the mountain and helps them not feel like they are on a climbing highway!   
The weather is also very different. A freezing temperature close to -30 is much less felt in alpine hiking. We are active and it shows. Big winds through the big snowy fir trees? It happens very rarely!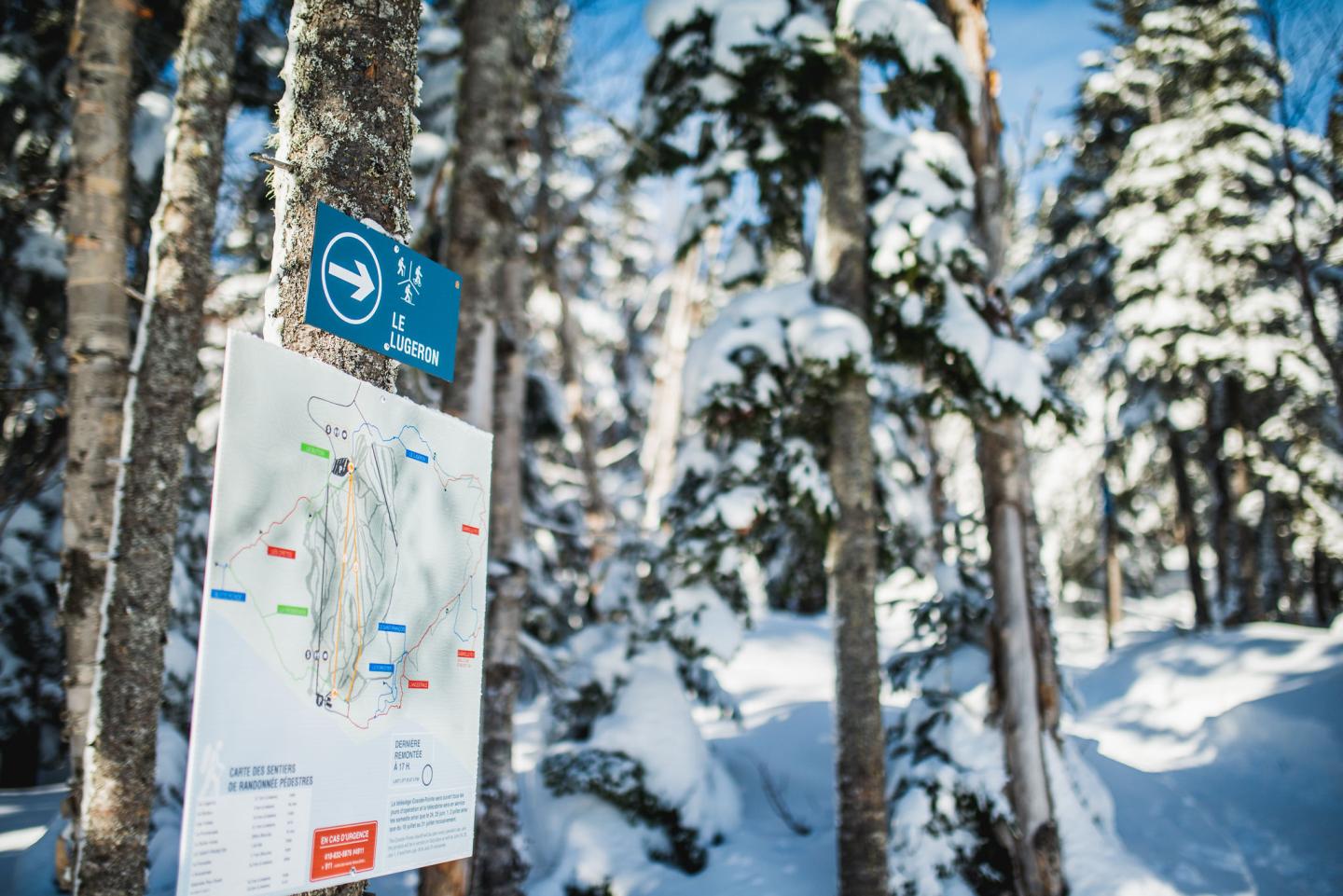 Several options
The alpine hiking offer at Le Massif is diversified. If you are in the mood for a light climb, you can simply take Le Lugeron, which starts at the summit chalet and slowly winds its way up the mountain. This easy trail has an elevation gain of 145m and passes through a beautiful coniferous forest. It is the perfect trail for beginners. From there, you can access the start of the highest off-piste sector (altitude 800). 
Looking for more of a challenge? You can start your epic journey at mid-mountain or even from the base of Le Massif on the new Le Chalumeau trail, which passes by the Basilic bike path (summer nostalgia!) and then branches off the ski area. And if you want peace of mind, you can head west of the resort and take La Promenade (easy) and Les Crêtes (very difficult), a 6km long climb with breathtaking views that leads to the Maillard sector while being far from everything. 
The alpine hiking access fee includes a pass giving the possibility to take a chairlift or gondola ride during the day. You can plan your trip by parking your car at the summit or at the base of Le Massif. 𝘗𝘢𝘴 𝘤𝘰𝘮𝘱𝘭𝘪𝘲𝘶𝘦́!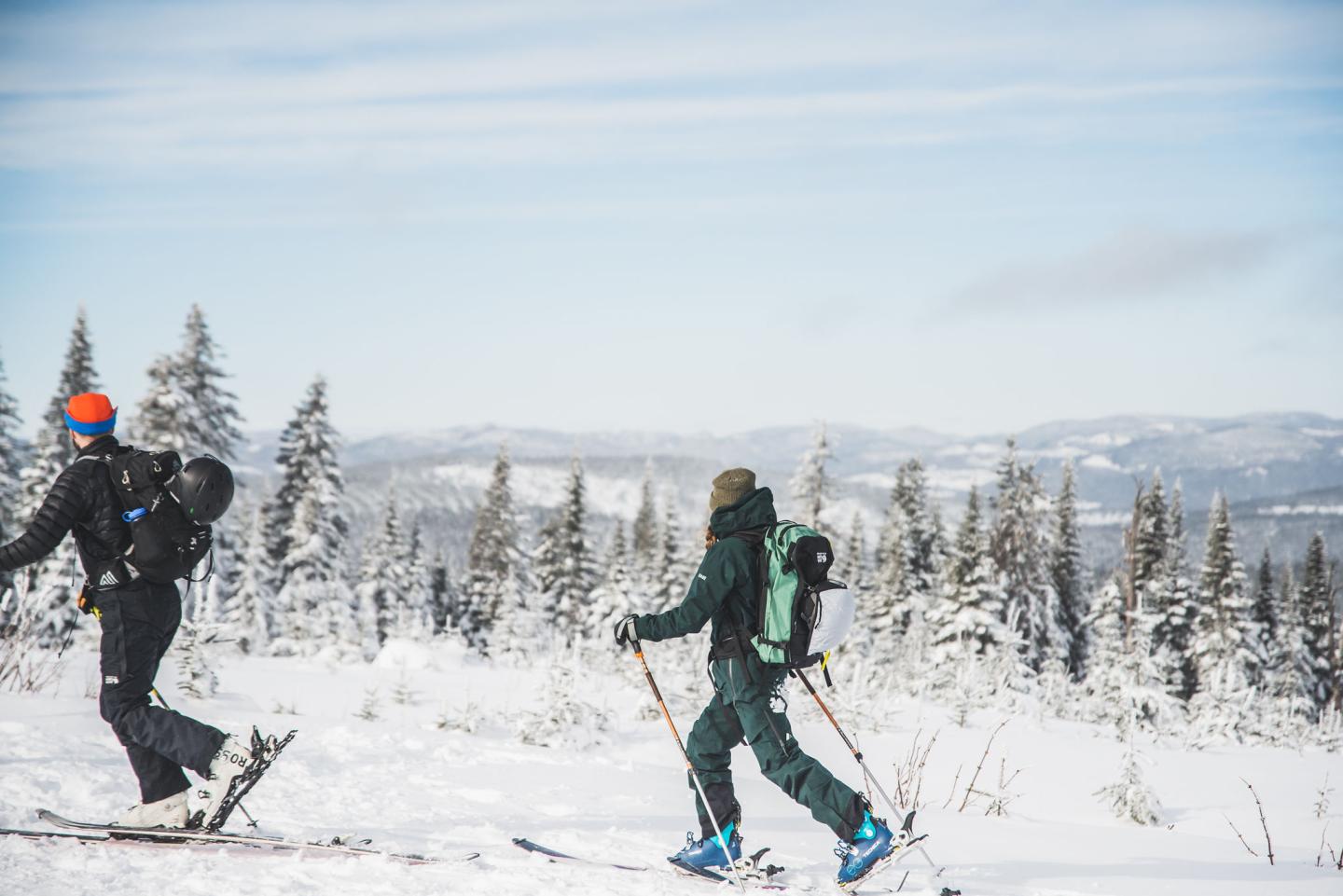 Savour the Descent
Because happiness often comes after effort (endorphins, does the term ring a bell?), it feels like you savour your descent ten times more after climbing for several hours. Some speak of "earning your ride down." For sure, spending a few hours on your skins gives you time to apprehend − in the good sense of the term − all the joy of your run down, to visualize it. Later, you excitedly strip your skins off, congratulate yourself for being in shape (yes yes!), enjoy a satisfying snack and hop, you get ready to attack the powder after slipping into warmer outerwear and your helmet.
What can be said about the amazing ride down? This sector of Le Massif is vast, with its 15 km of terrain beyond the ski area boundaries. Choose your trail according to your mood of the moment, whether you're craving adrenalin, natural jumps, a steep pitch or simply a majestic view of the mountain and river.  There's something for everyone! Next, you casually reenter the skiable acreage with a headful of memories… and hungry for another adventure!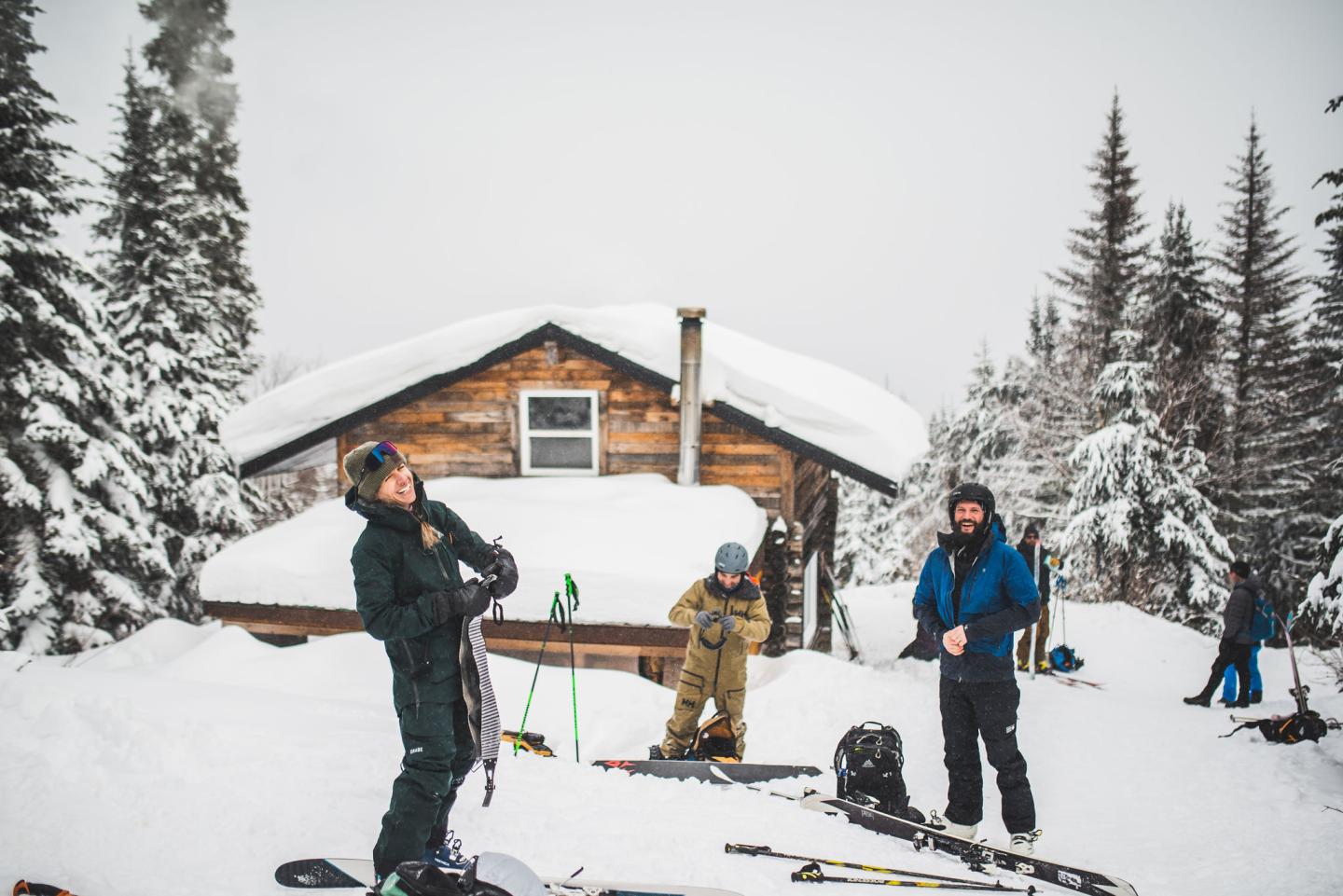 Best When Shared
It cannot be repeated often enough… prudence is clearly required in the off-piste sector! Because this terrain is located beyond the ski area's marked trails and it is neither patrolled nor groomed, do not venture out there by yourself if you aren't certain of having the necessary skills. This zone is for experts only. Above all, do not go there alone. Anyway, climbing with skins is a pleasure that is best shared à deux or in a group, so why miss out?