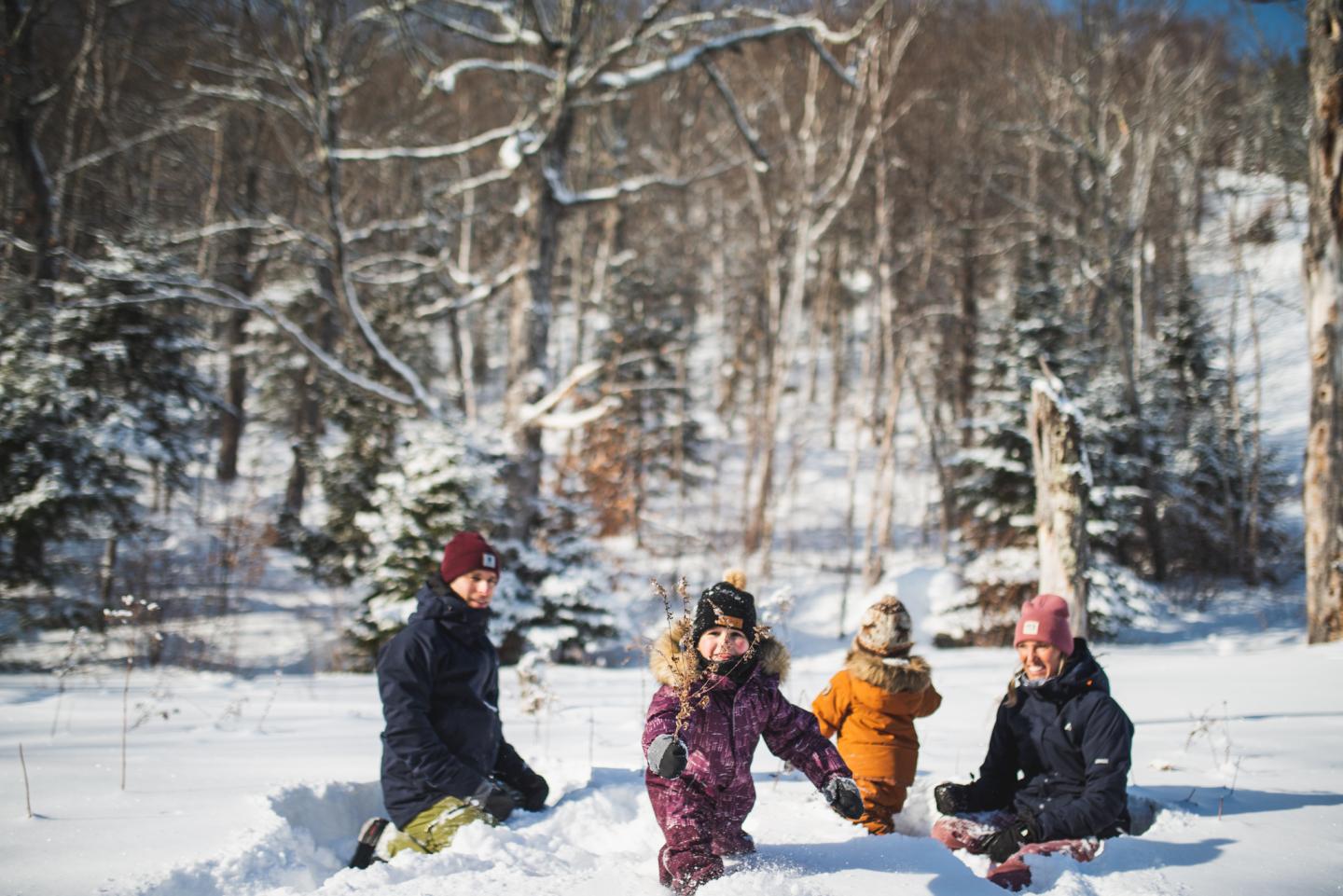 Winter makes you want to take your time, slow down and enjoy the snowflakes as they fall gently, unhurried. The colder season also inspires us to cuddle up in our family cocoon and especially, to head outdoors into nature as often as possible, recharging our little nest egg of happiness while savouring every moment spent together. 
With the clear intention of filling our spirit with sweet memories and spectacular scenery, a few weeks ago we hopped on the road for le Massif de Charlevoix for a full weekend with our mini-mes. Oh, how we love this place! There's an atmosphere, a je-ne-sais-quoi that reigns supreme here… It feels like the sunbeams peeking through the snow-capped fir are lovelier here than elsewhere. 
What a getaway! For sure, as a family far from our household routine, lodging steps away from our first turns is hard to beat. Less preparation and more time out on the trails are the basics for everyone to have loads of fun, 𝘤𝘩𝘦𝘻 𝘯𝘰𝘶𝘴! 
Story of a little escapade that worked wonders on us.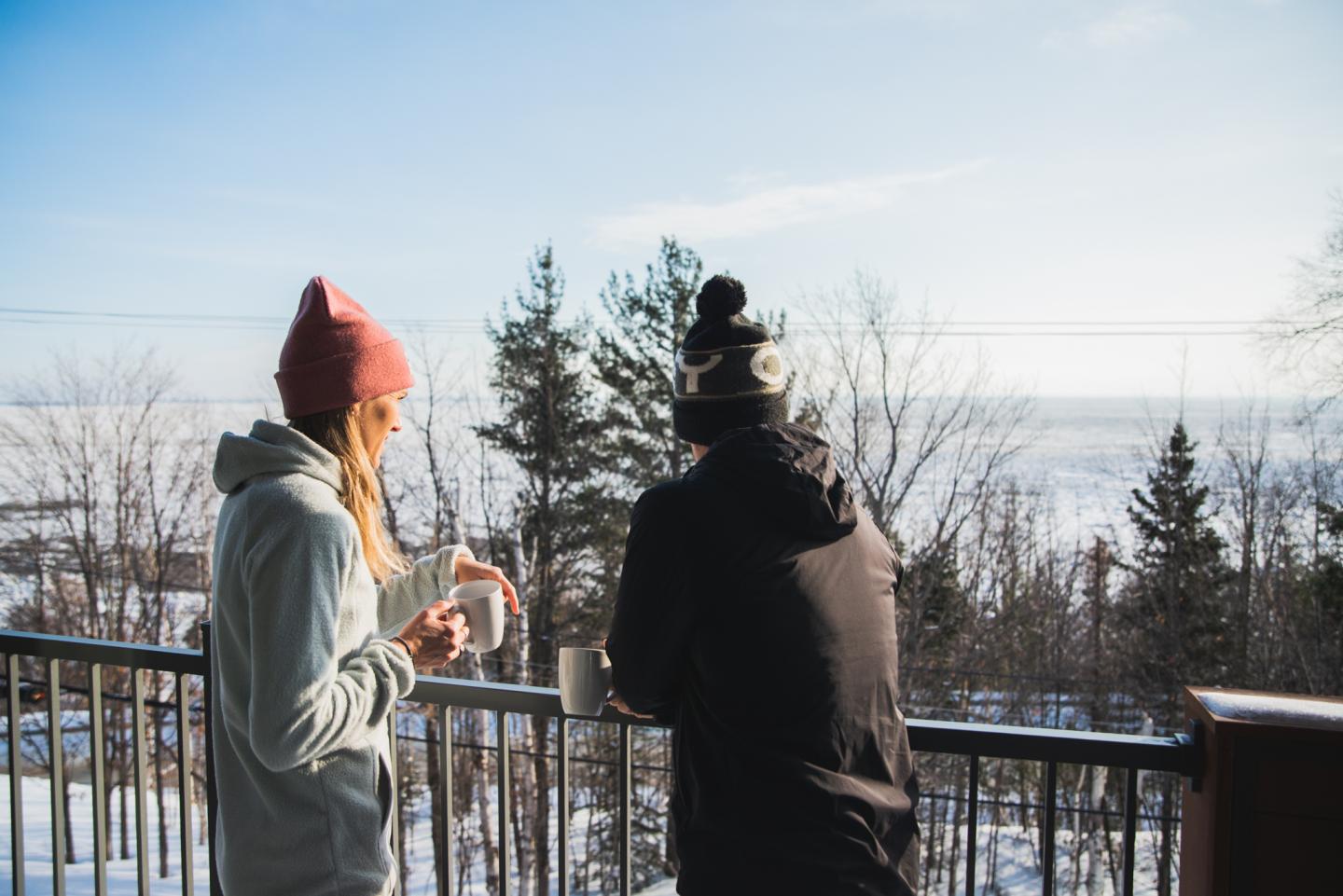 Refreshing Sleepover Option
Since we usually stay at the summit, for the first time we let ourselves be tempted by le Secteur des Caches de la Grande-Pointe, at the base of le Massif. It did not disappoint! Waking up by the riverside with beautiful light showcasing the boats out on the water was simply majestic. 
Sleeping right next to Petite-Rivière-Saint-François was also very pleasant. Being (really!) close by, we took time to go for a stroll around the friendly village, enjoying a coffee and spending quality time with the kids along the St. Lawrence. Not only did we enjoy a bona fide ski trip, but we also experienced Charlevoix's typical charm − first-hand.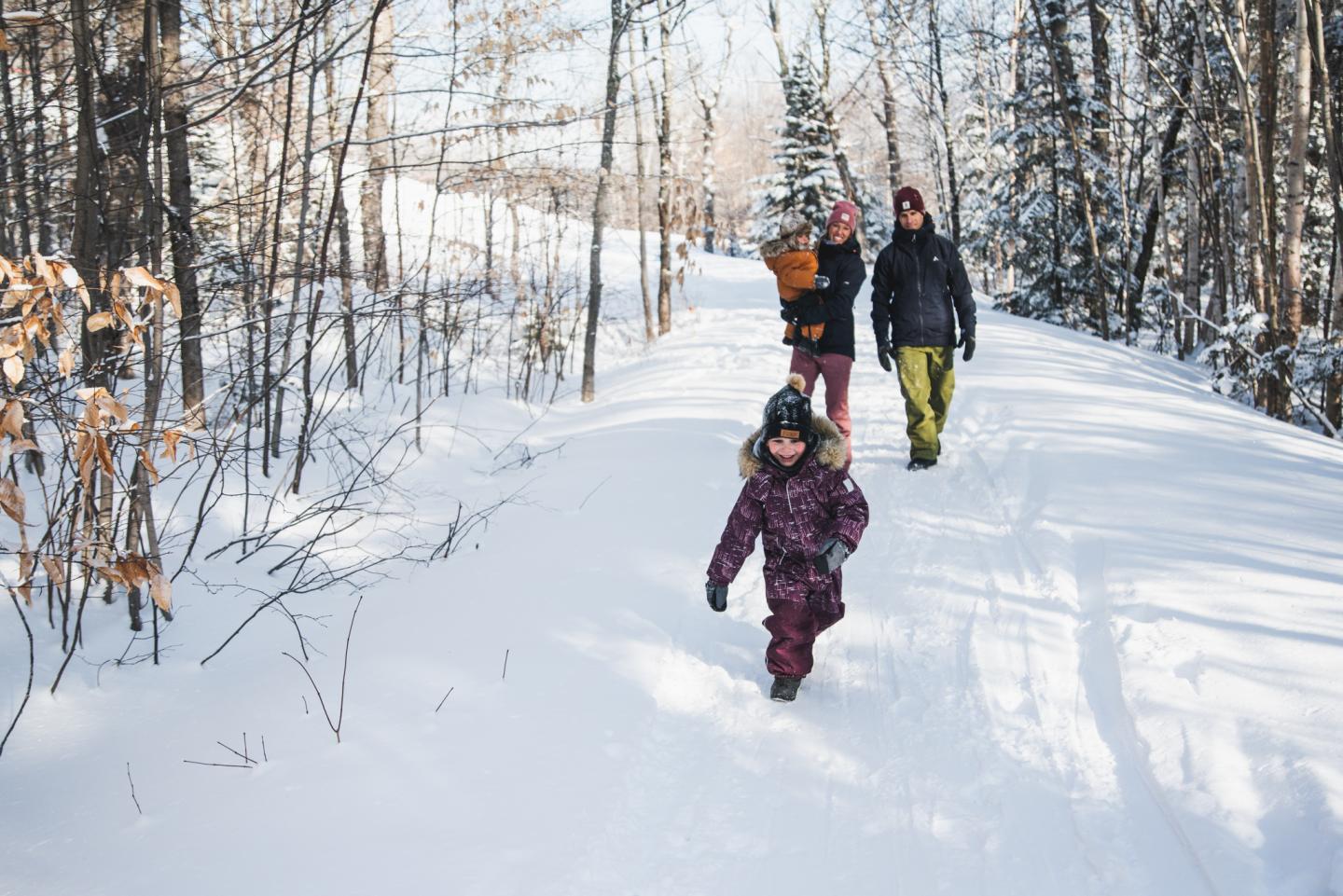 Near All The Action
For families, les Caches de la Grande-Pointe are ideally located next to all the activities offered at the base of the mountain and of course, that mythical ambiance that has made Le Massif's reputation. This year, the ski area has added a new learning zone at the base, steps away from where we were staying. It was simply perfect for our youngest to carve his first turns, hearing him say "again" after each mini run. 
Le Massif's hiking trails are also right next to Les Caches, simplifying logistics when you feel like getting up close with nature, differently. The trailheads of La Promenade and Le Chalumeau are literally at the foot of the mountain, a singular and perfect playground for enjoying the site with youngsters. A must-try! 
Pssst! The temperature at the bottom of the slopes is always a bit warmer than at the summit… A huge plus when the pups feel like playing outdoors for a long time!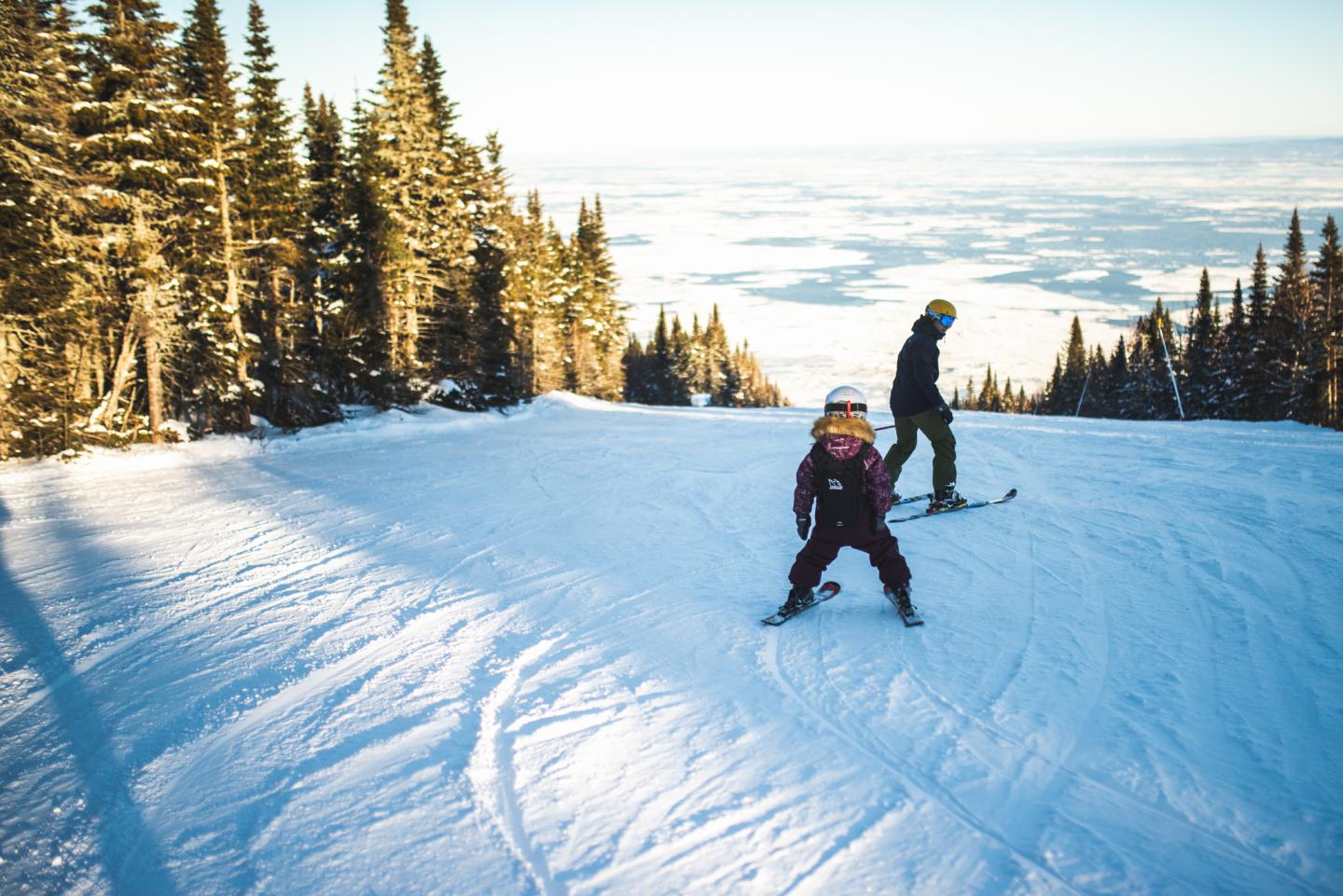 Let's Go, It's Trail Time!
The second morning, my four-year-old daughter and her dad set out for a gondola ride and a run on the "big trails." What fun they had, exploring the skiable terrain on their boards! Sharing the mountain with our kids and seeing how they already adore it, at such a young age, is truly heartwarming. From our standpoint, skiing is by far the best family activity on the market! 
We watched the Ski Club's young skiers on task. They were really having fun and it was inspiring to observe them as they challenged one another on snow, focused on their turns and their coaches' exercises. My daughter was still talking about it at bedtime, she was so impressed. 
As fatigue started settling in, clearly the shorter runs were ideal. We headed up to try le Massif's 2nd learning zone at the summit, and its two beginner trails. As a parent, the big challenge was not letting yourself be distracted by the endless scenery and staying focused on the talents of our mini-mes!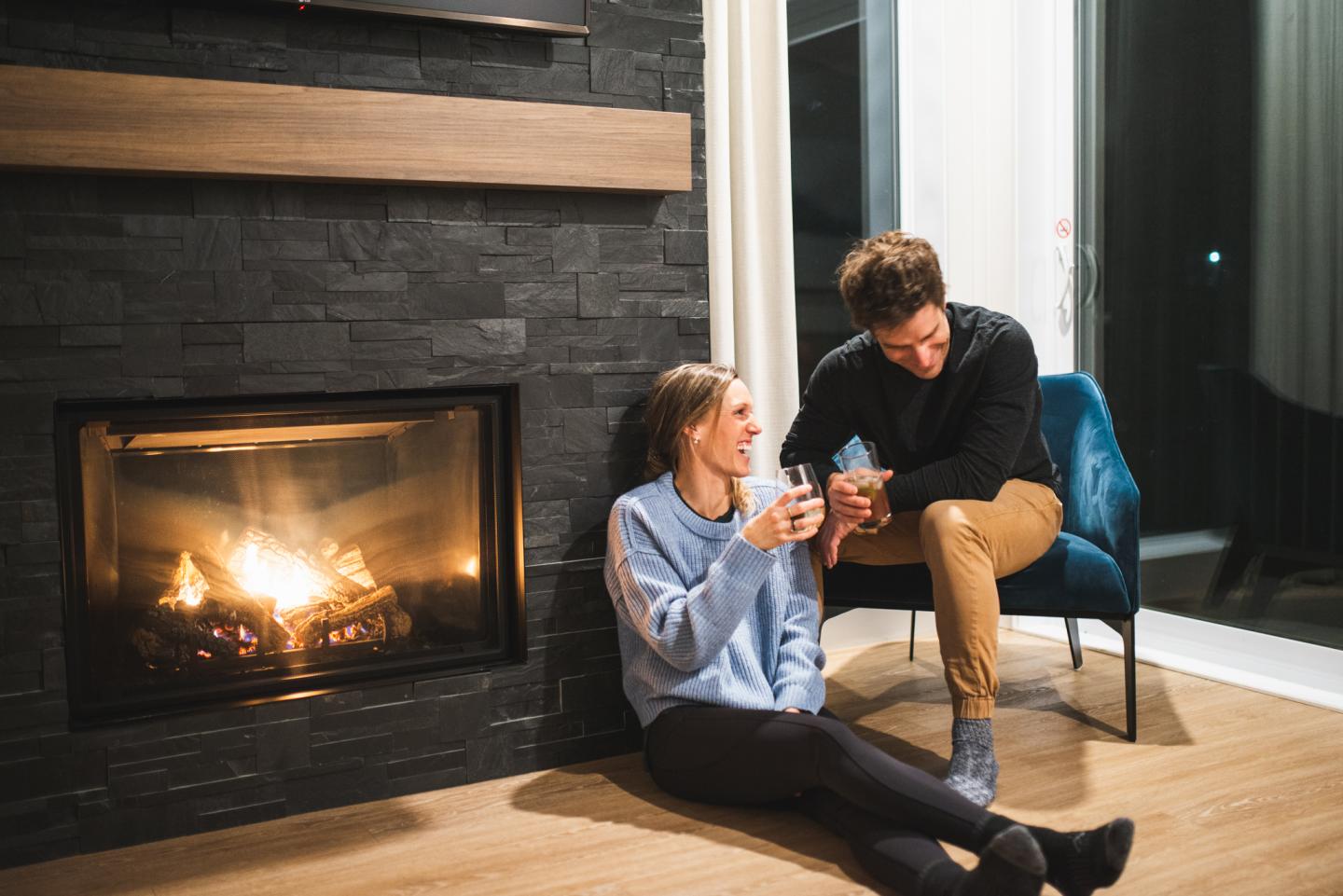 Wonder Factor Recap
What incredible fun we had! There is no age for skiing and having fun at le Massif. Charlevoix's wilderness has once again worked wonders and managed to keep us spellbound. We enjoyed its grandiose landscapes like never before, we played and joked around in the chalet, spent our evenings around the firepit and rested up. Everything was perfect… even the glass of wine seemed better than at home!
As we left the mountain, I glanced back at the breathtaking view one last time, revisiting the memorable moments we had just lived. Then… I started dreaming about our next escapade to our own little piece of paradise. 
𝘈̀ 𝘣𝘪𝘦𝘯𝘵𝘰̂𝘵!