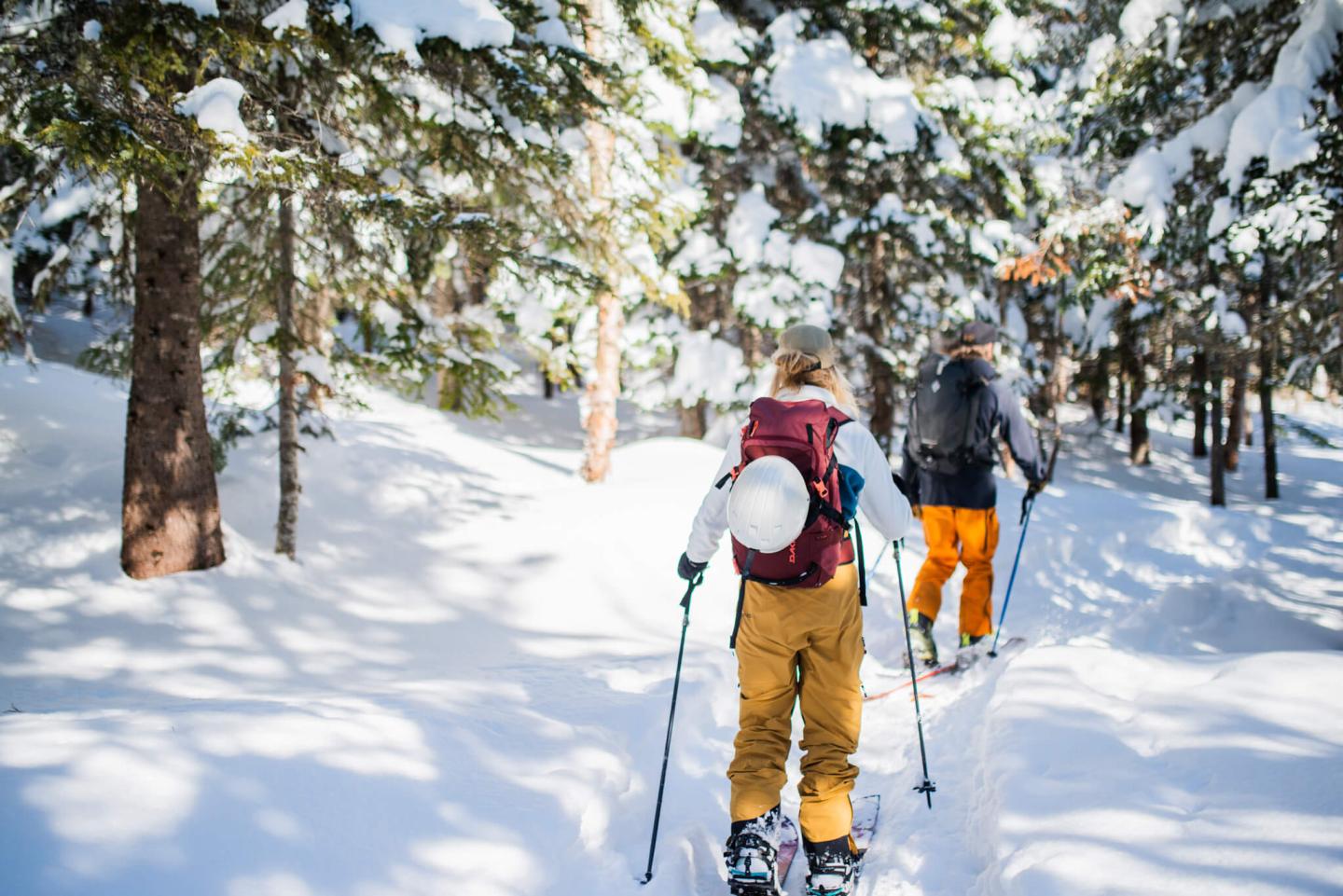 Backcountry, randonnée, alpine touring, off-piste… However you define it, we offer easy access to more than 15 km of skiable and rideable terrain outside the ski area boundary for guests who prefer to earn their turns on alpine touring or splitboarding gear. (Snowshoes also permitted for snowboarders.)
Earn every turn with backcountry touring
To access the alpine touring trails, you must sign a waiver and pay a daily access fee of $25 + tax. This provides you with a single lift ride via chairlift or gondola for quick access to the backcountry terrain. Alpine touring passes are available for pickup at the customer service offices at the Summit Lodge or Base Lodge. 
To obtain access, you must complete our Alpine Touring Waiver for every day of touring. Paper versions are also available at the customer service office. This waiver is designed for your safety, should you require emergency search and rescue.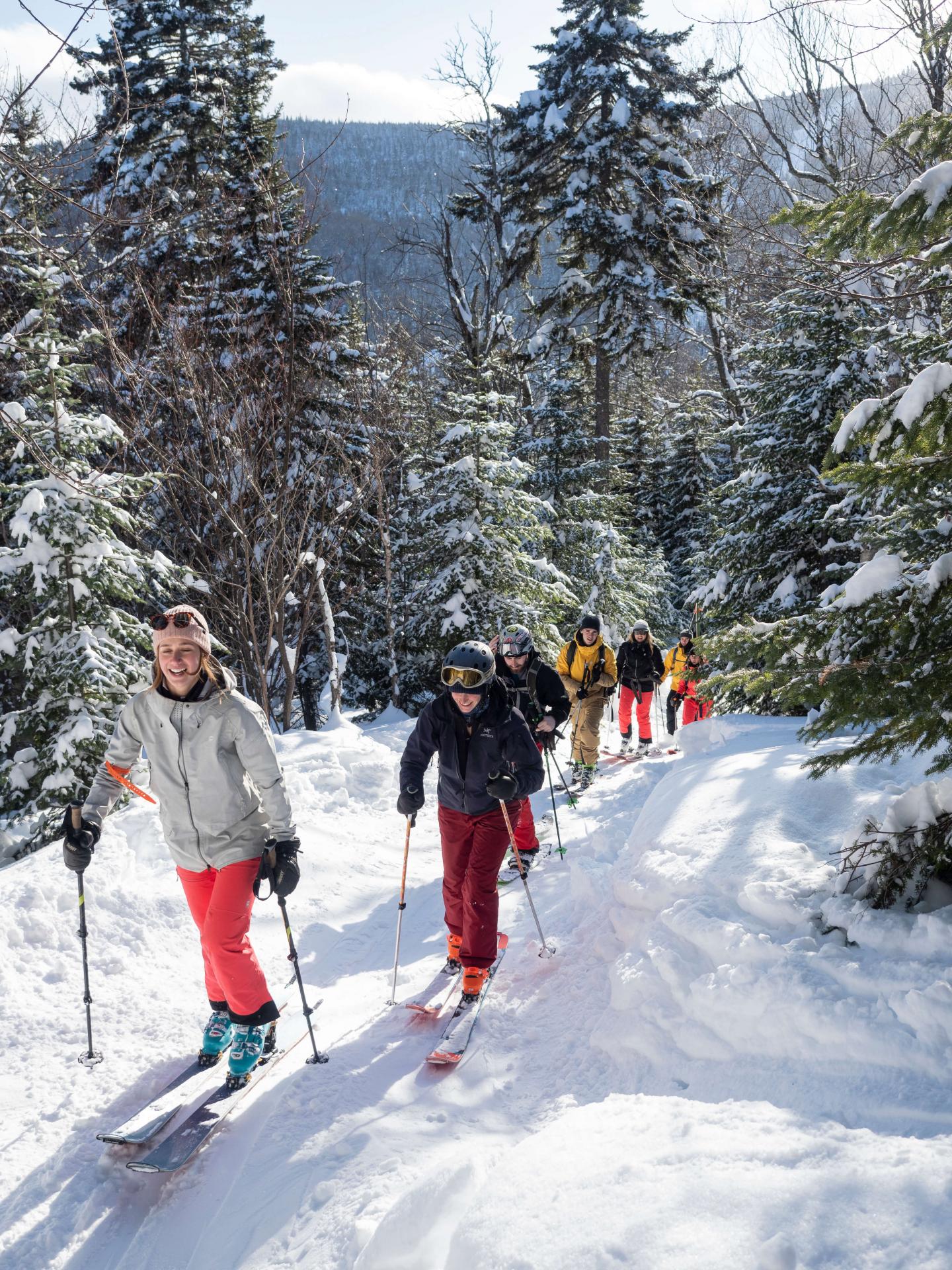 Touring lesson
Take a lesson with a certified mountain instructor to learn all the secrets of backcountry touring at the Massif de Charlevoix. Are you a backcountry beginner? We have all the instruction and rental equipment you need to get started safely.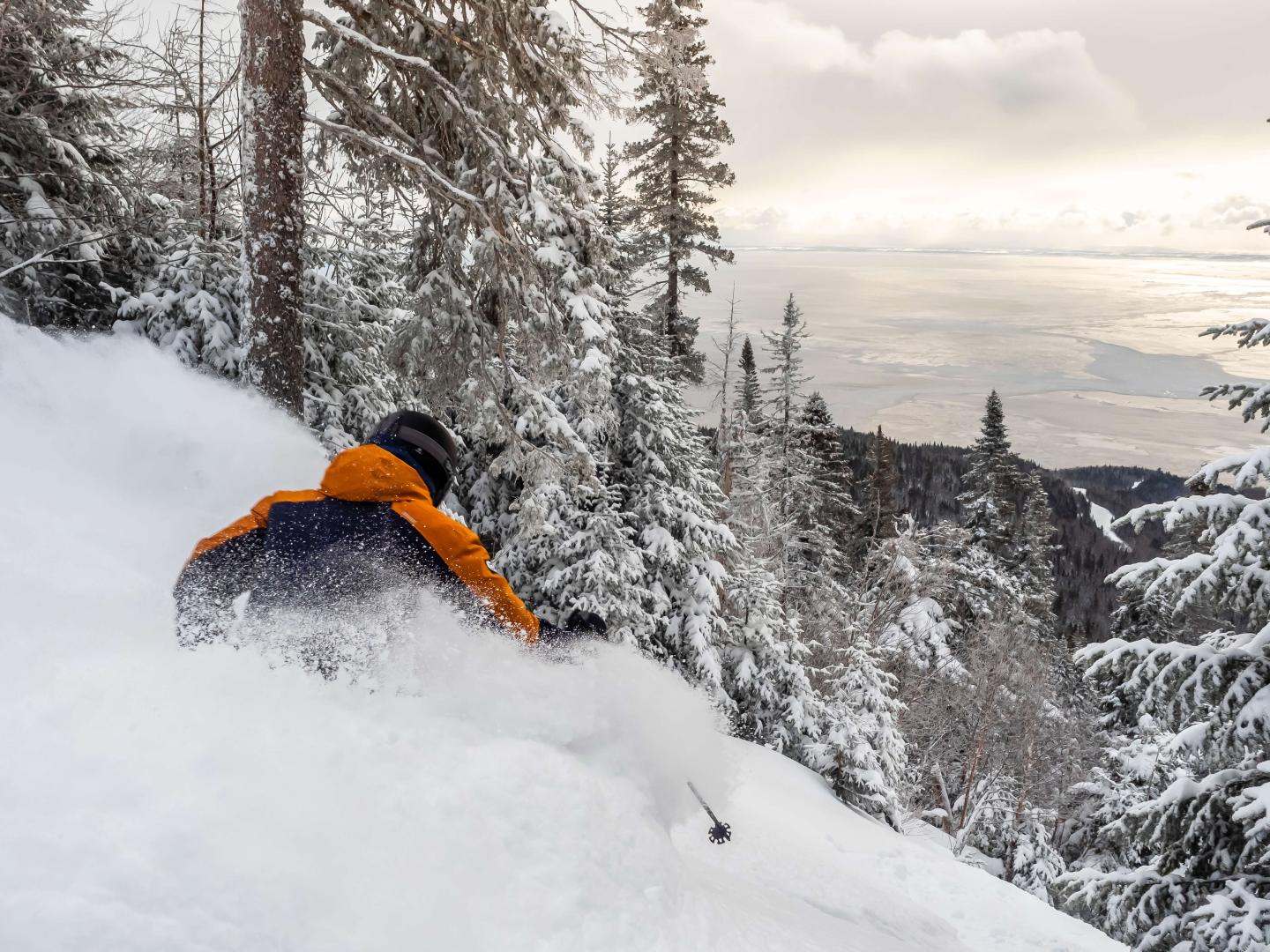 Off-piste Area
The off-piste area is located on Mount Liguori, north of the resort. There are three summits, 800 m, 550 m, and 425 m, all accessible with backcountry skins or by bootpacking. To access this area, you must have your alpine touring access pass or a valid lift ticket.
Liguori 800 is accessible via the Camp-Boule area, at the very start of La Fortin. You'll see a sign with a map of the area. Liguori 550 is accessible at the base of the Camp-Boule chairlift. Liguori 425 is accessible via the bottom of Zone 4, in Leguori 550.
Alpine Touring Information
The Mont à Liguori area is located outside of the Le Massif Ski Area boundary. Terrain is not maintained or managed by Le Massif. A valid day lift ticket is required. Never ski / ride in this area unless you are prepared for wilderness survival. If you decide to ski / ride in this area, be advised that it is not patrolled. You are responsible for your own actions, your own rescue, and the cost of your rescue (minimum fee $250), should you require help. Experts only. Extremely steep, narrow terrain. Unmarked natural obstacles exist throughout. 
Carry a cell phone or radio
Wear helmet and goggles 
Always tour in groups of 3+; never venture into the backcountry by yourself
Look before exiting the woods
Avoid this area after 2:00 p.m.
Minors must be accompanied by an adult
The ascent trails are marked with blue and white rectangles, as follows, or with blue ribbon:

From the base
Name
Ascent
Start
Finish
Elevation
Estimated time
Difficulty Level
La Promenade / La Crête
5.75 km
Bottom of La Charlevoix
Summit Maillard Sector
680 m
3 h

Promenade: easy

Crête: very hard

Le Chalumeau
4.85 km
* New marked trail
Base of the gondola - Ascent in the Basilic bike trail - Crossing of the L'Ancienne ski trail - Ascent in the off-piste sector - Crossing of the La Racine trail - Ascent in the L'Aventurière hiking trail
Summit of 550
(off trails 4-5)
666 m
2.5 h

Easy to very hard
From the Summit
Name
Ascent
Start
Finish
Elevation
Estimated time
Difficulty Level
Le Lugeron
3.75 km
Sledding reception
Summit of Liguori
(off trails 1-2-3)
145 m
1 .5 h

easy
From the bottom of the Camp-Boule Chairlift
Name
Ascent
Start
Finish
Elevation
Estimated time
Difficulty Level
Accès Liguori 550
0.82 km
Bottom of the Camp-Boule chairlift
Sommet 550
(hors-piste 4-5)
100 m
20–30 min

easy

Accès Liguori 800
2 km
Bottom of the Camp-Boule chairlift
Summit of 800 (off trails 1-2-3)
or back to the summit lodge
338 m
1 h

very hard
Waiver for season pass holders/day ticket holders
It is essential to complete the waiver, even if you already have a season pass or regular day ticket. This allows us to increase safety services and provide search and rescue in the event of an emergency.
Safety notice
Travel only on designated routes on the map. Respect signs, wildlife, and the environment.
Respect the Mountain Code of Conduct at all times.
Never descend an uphill access trail. Plan your descent in advance. Enter / exit the backcountry terrain via our open trails or designated off-piste areas. 
Depart alpine touring trails no later than the respective closing times of the resort.
Make sure you are physically fit and have appropriate clothing, food, and equipment.
Knowledge of first aid and related equipment is an asset.
The conditions, the temperature, and the difficulty of the terrain can vary. Ask our staff or get a guide, if needed.
Do not venture into the backcountry alone. Minors must be accompanied by an adult. Bring a fully charged cell phone; a GPS app is an asset in case of emergency.
* Le Massif reserves the right to charge a fee (minimum $250) for any request for assistance or evacuation outside of its operating hours, on marked and open trails or off-piste areas.