Les Chalets-forêt Jumelés
Semi Detached Chalet-Forêt 38b
At the Summit
3 Rooms
2 Bathrooms
9 Guests
The Chalets-Forêt are perched in a coniferous forest overlooking the St. Lawrence Valley and offer a breathtaking view of the river and the mountain. The chalets spread out on several levels: the living spaces on the top level that offer a panoramic view and the bedrooms on the intermediate level with views on the forest.
Description
3 star classification
No pets allowed 
No smoking 
The unit offers the following opportunities:
Ski-in / Ski-out (within 400 meters of a ski access)
Direct access to the cross-country ski trail
Direct access to snowshoe trails
400 meters from the mountain bike trail
Hiking trails nearby
Second Floor
Fully equipped kitchen with fully fitted island and dining room for 9 people
Living room with a 50-inch 4K UHD smart TV and a fireplace (Logs not included)
Bathroom
First Floor: Main Entrance
1 bedroom with 1 Queen bed (2 people)
1 bedroom with 1 Queen bed (2 people)
1 bedroom with 1 double bed with 1 bunk bed (3 people)
Bathroom with shower
Ground floor
Spa access
Bathroom with bath and shower
Laundry room
Family room with double sectional sofa bed with mattress available (2 people)
High table that can be used for workplace or board games
50 inch HD TV, equipped with DVD player with bluetooth speaker
Hobbies : Air hockey table, board games, arcades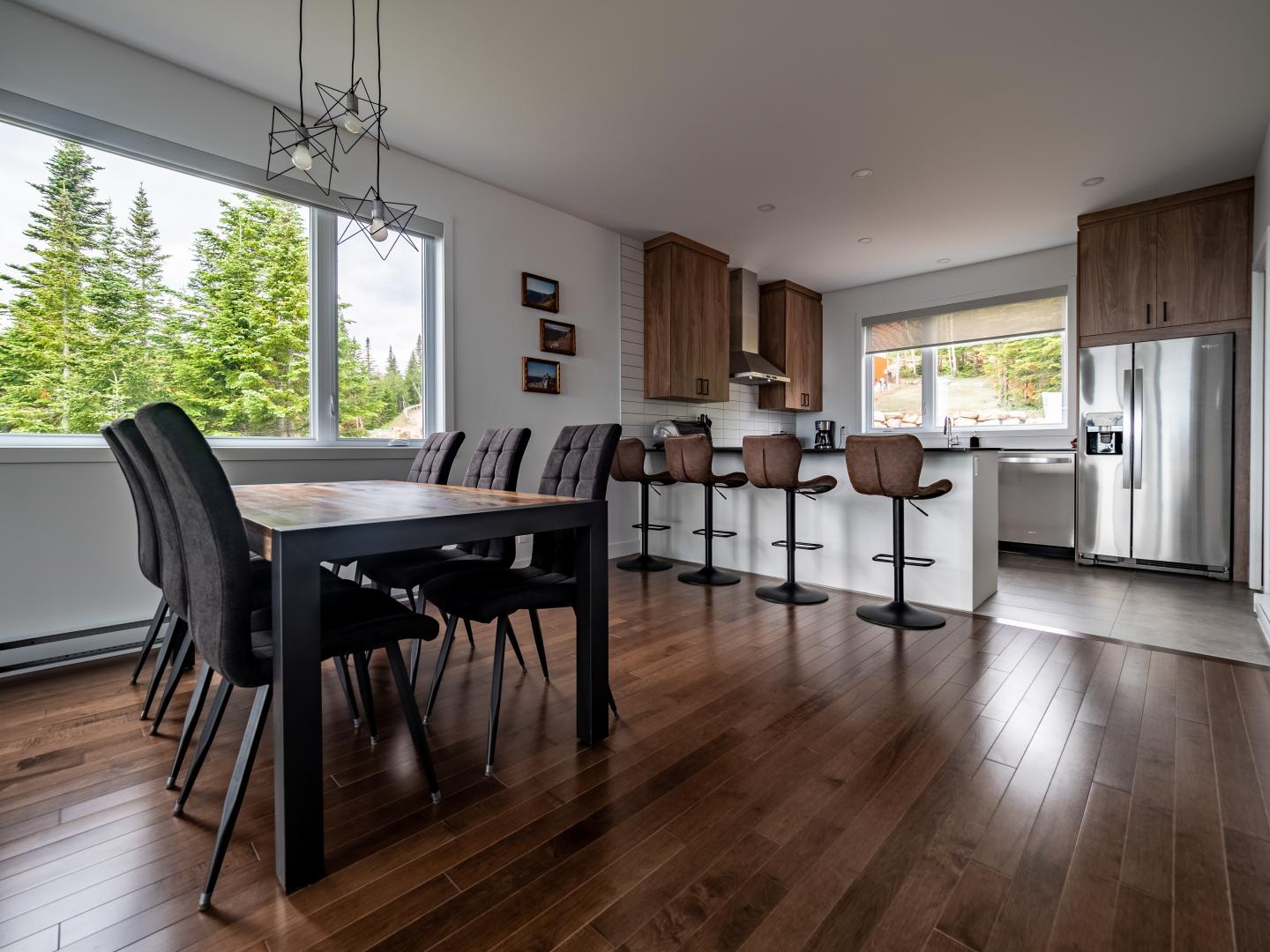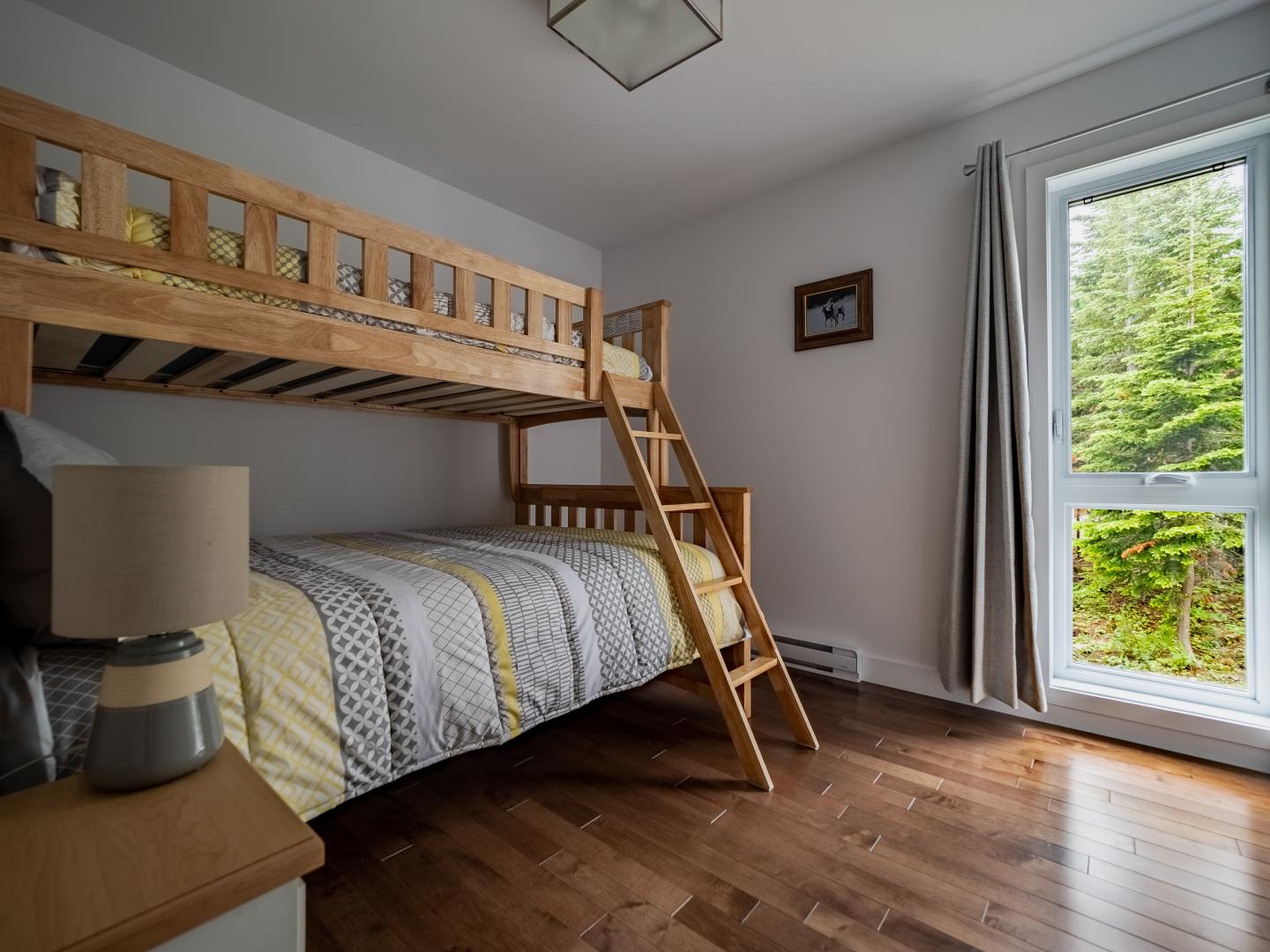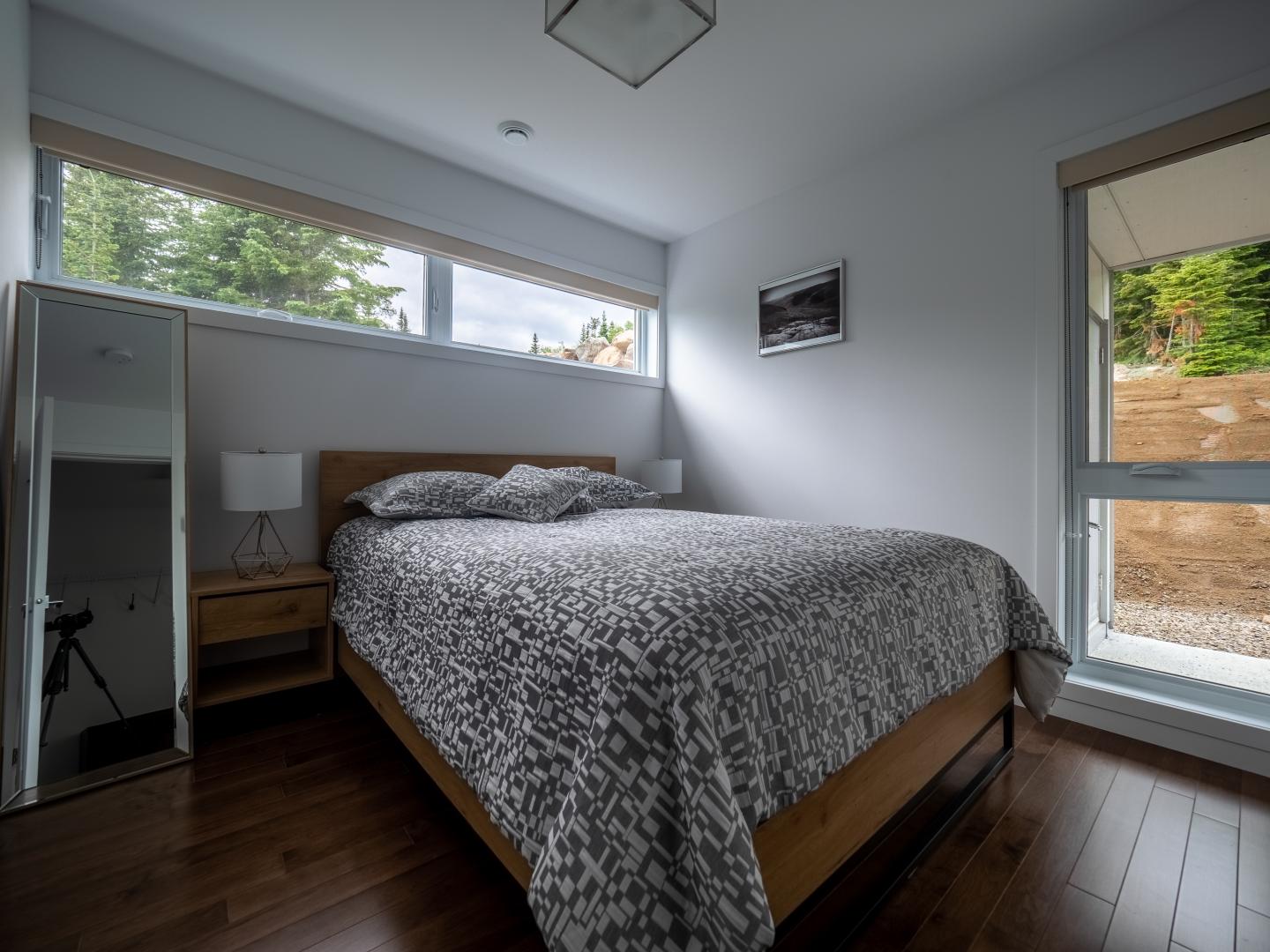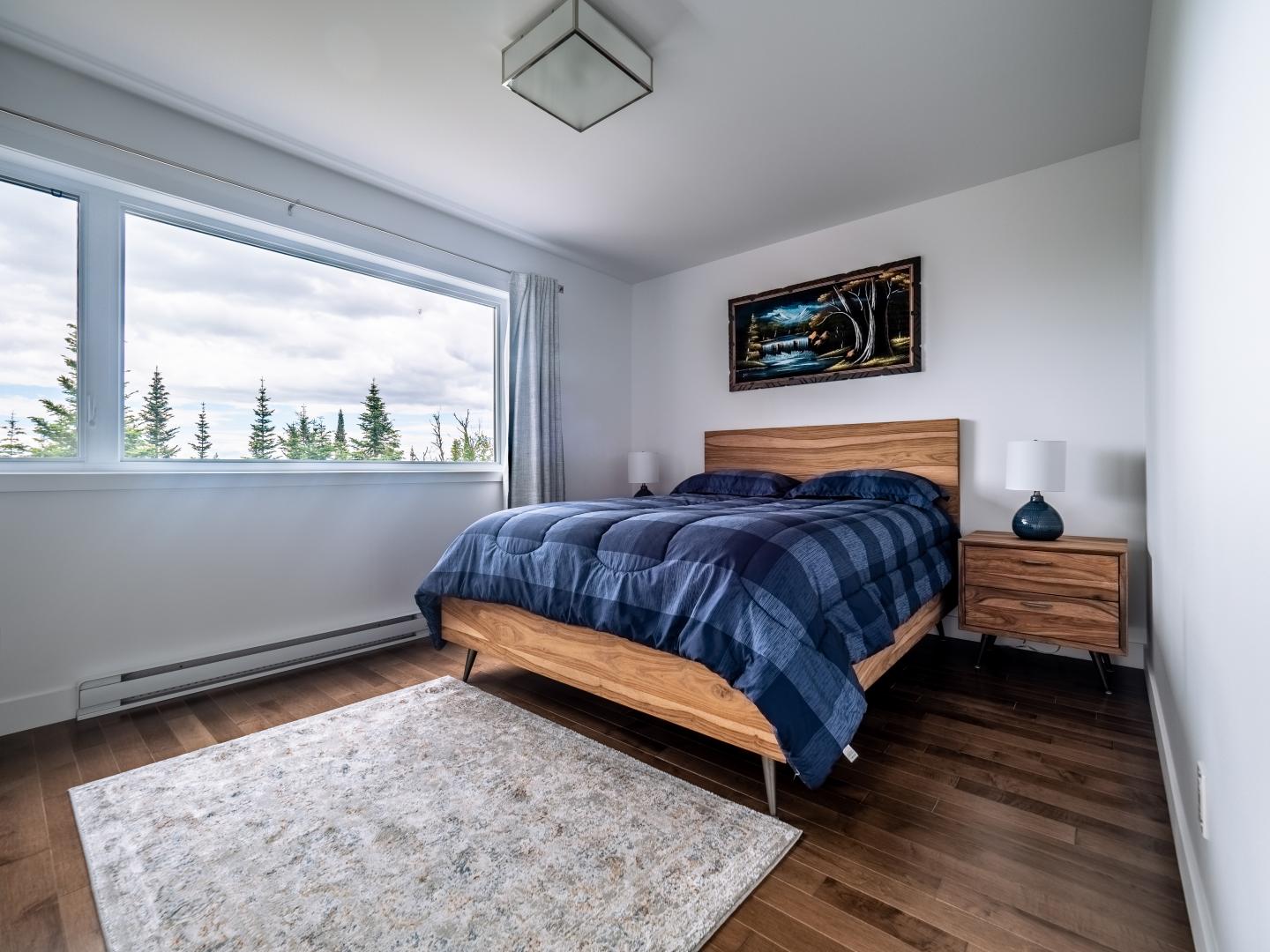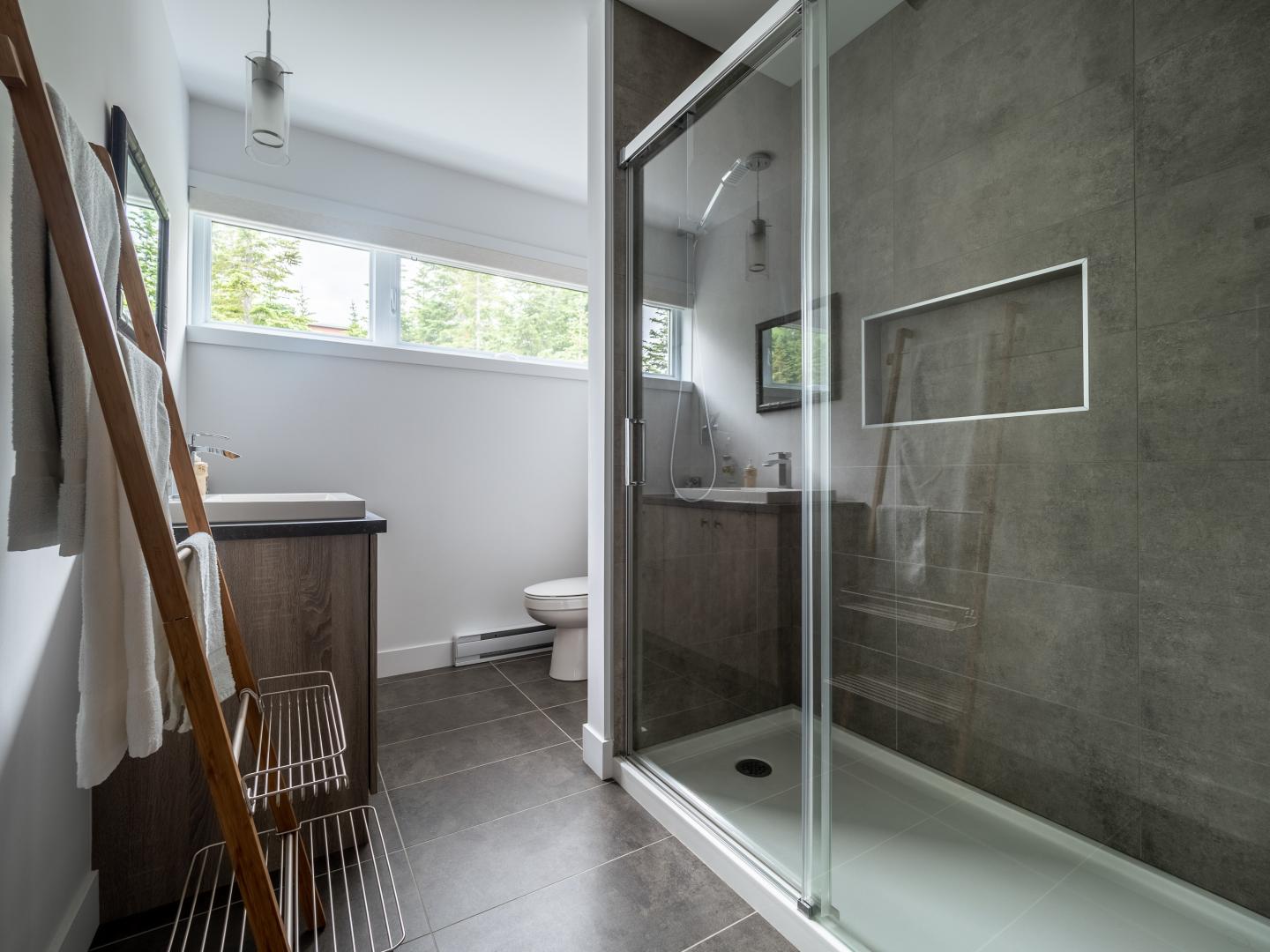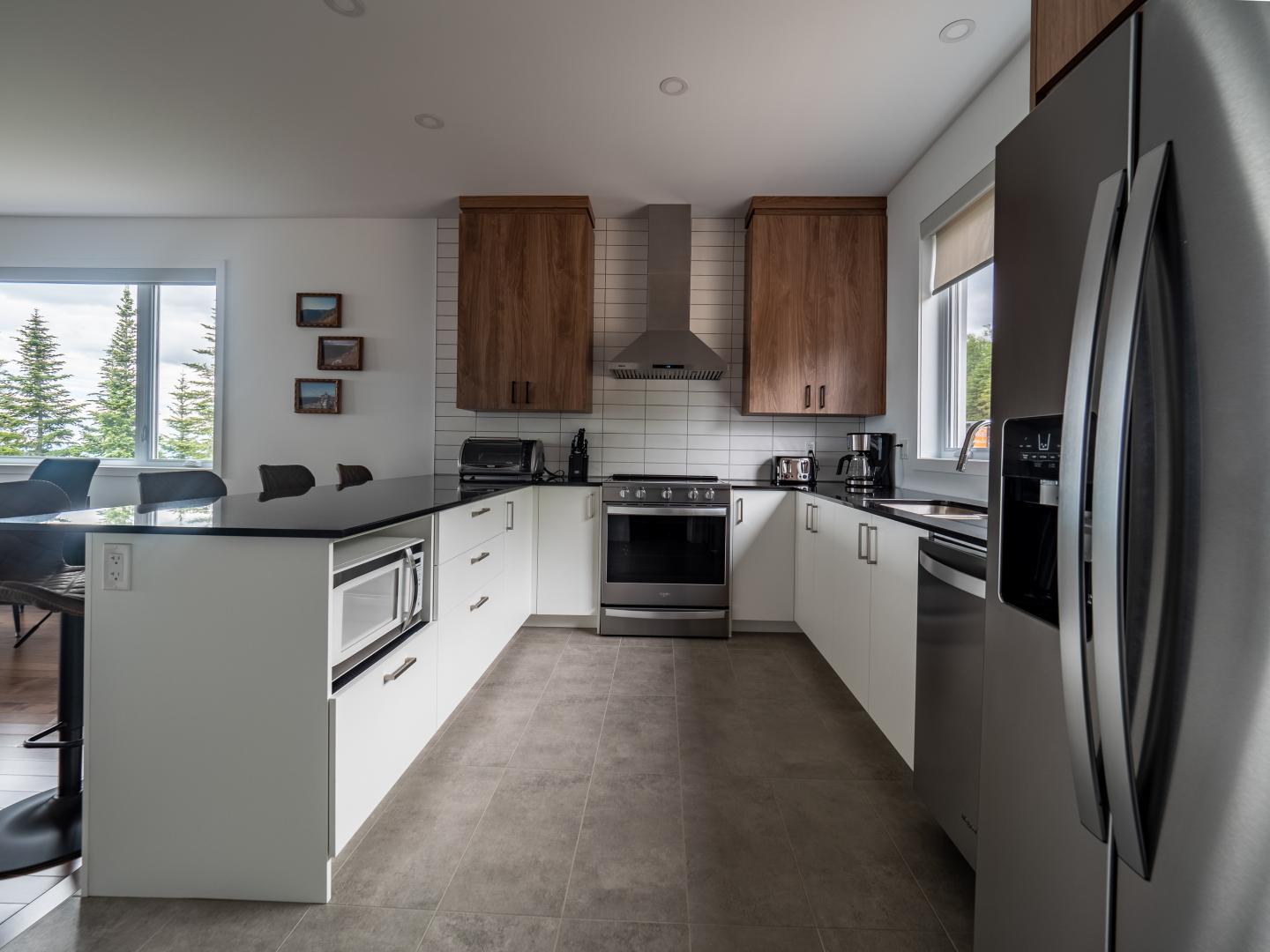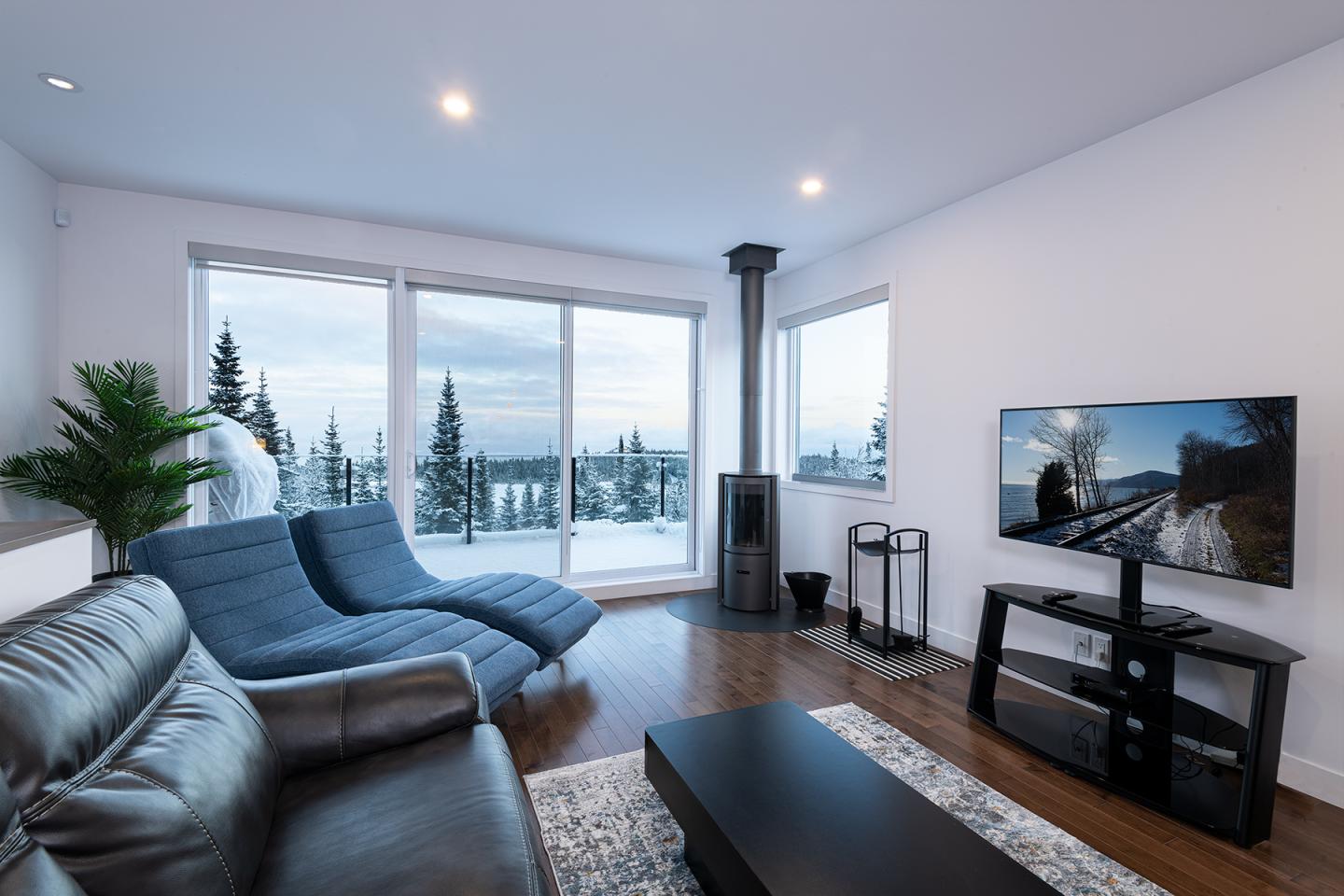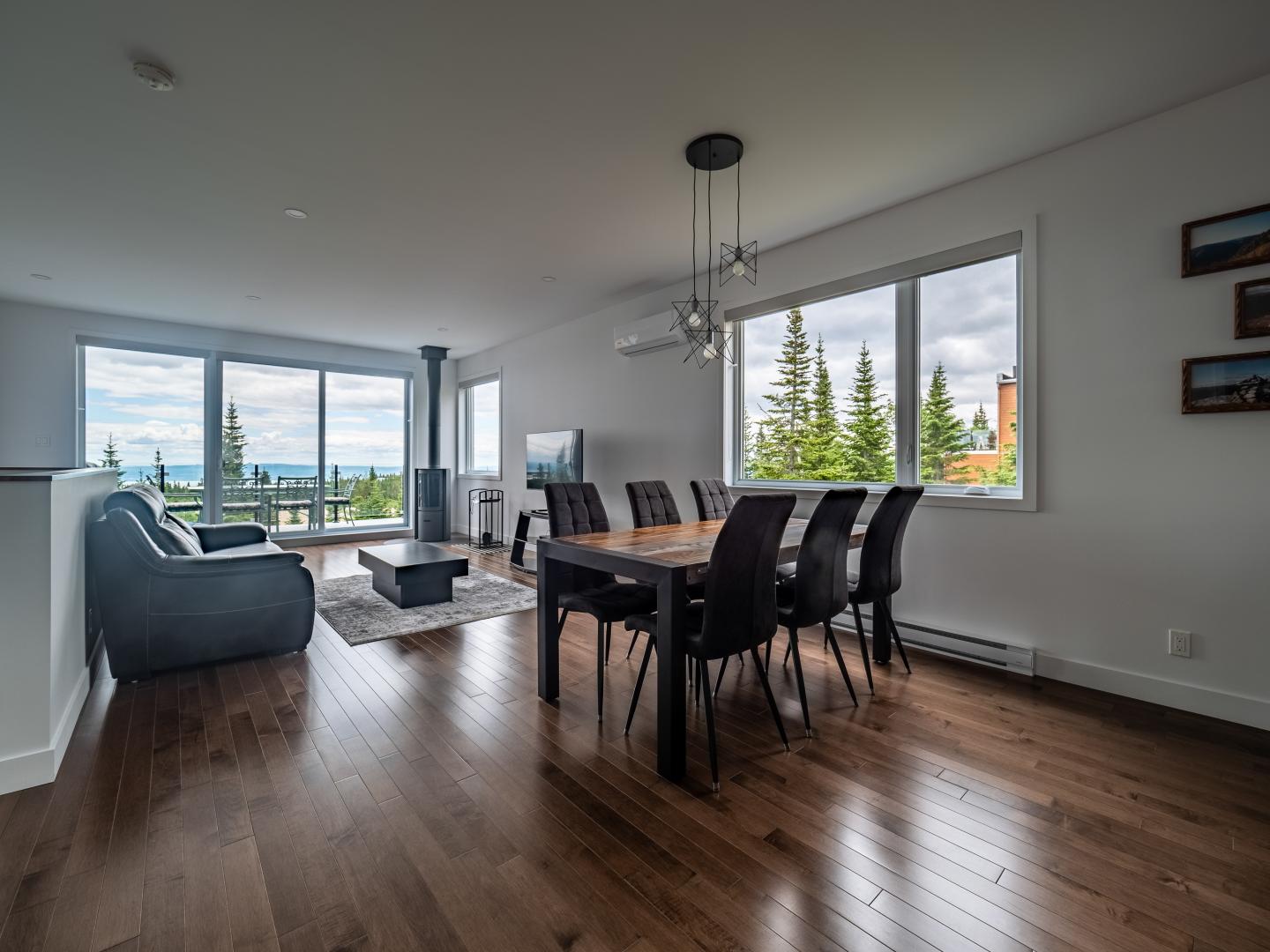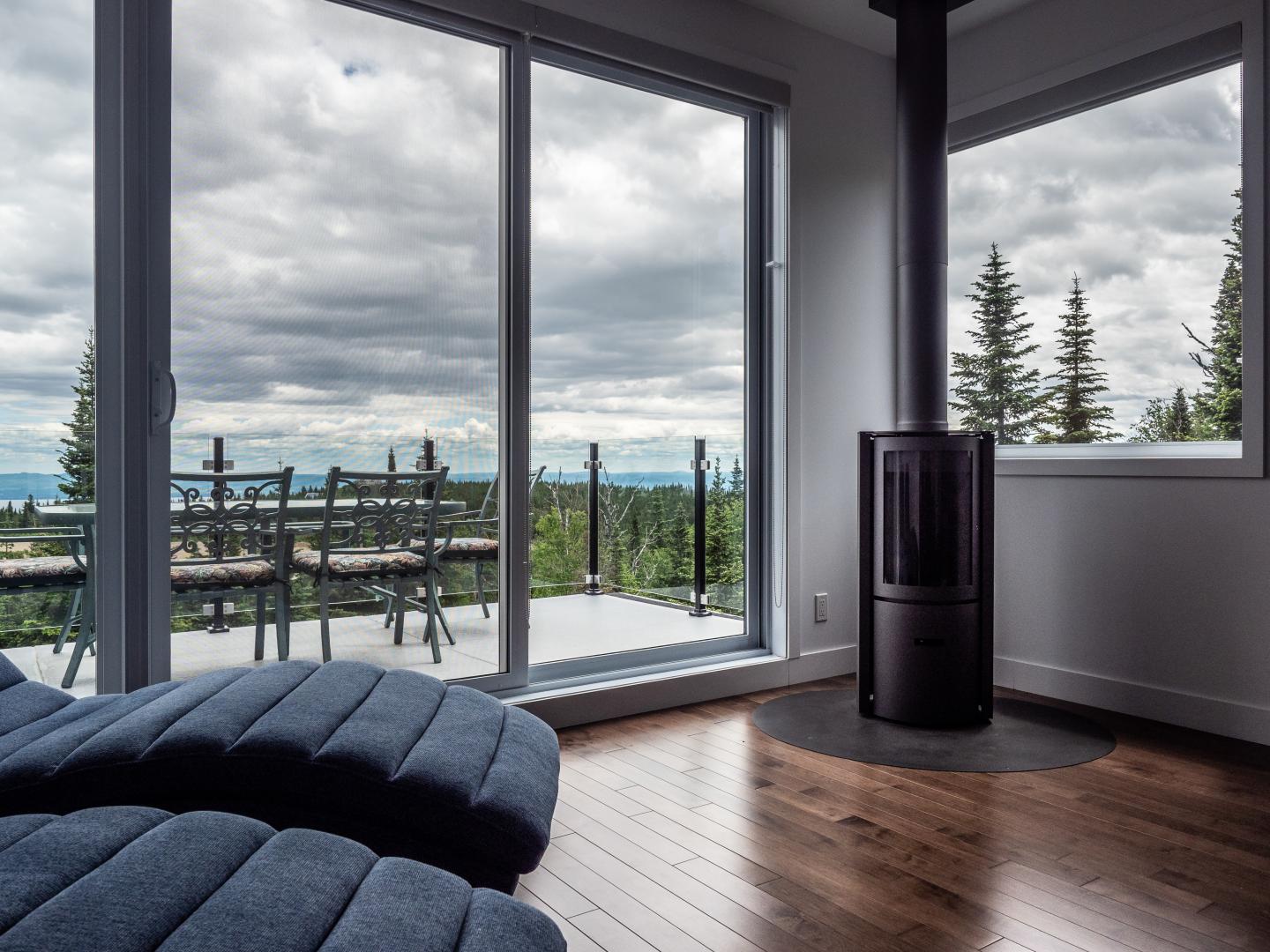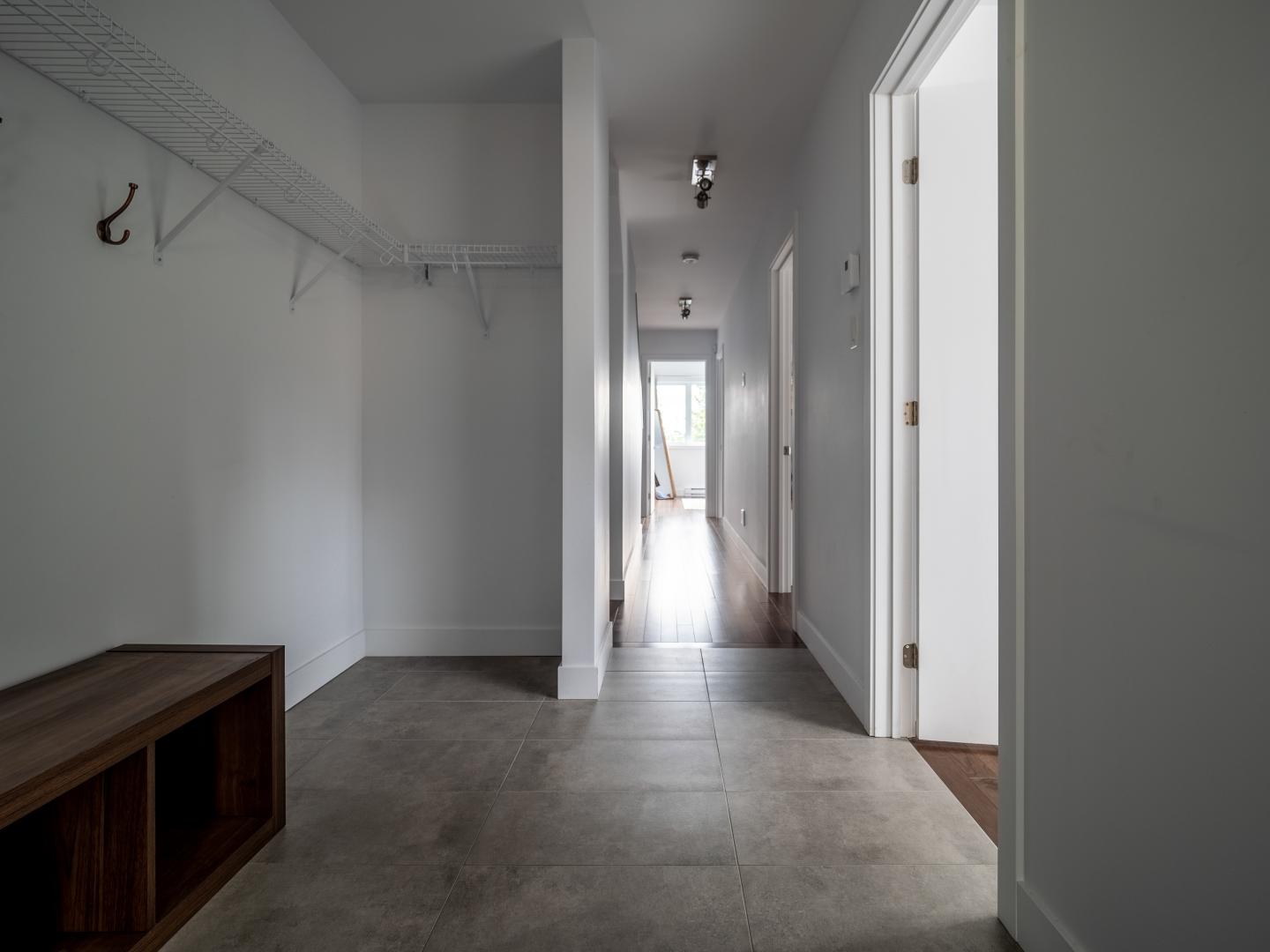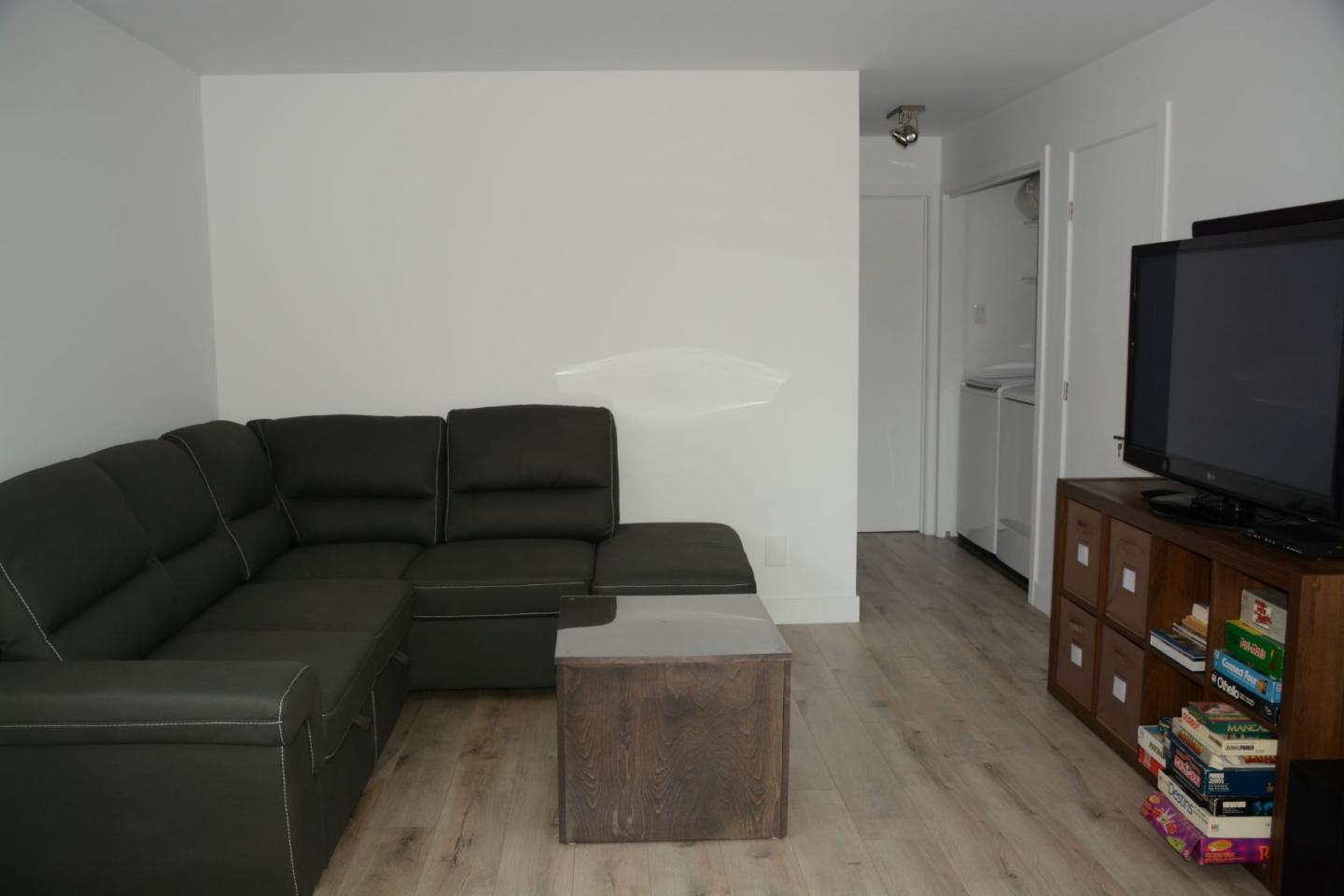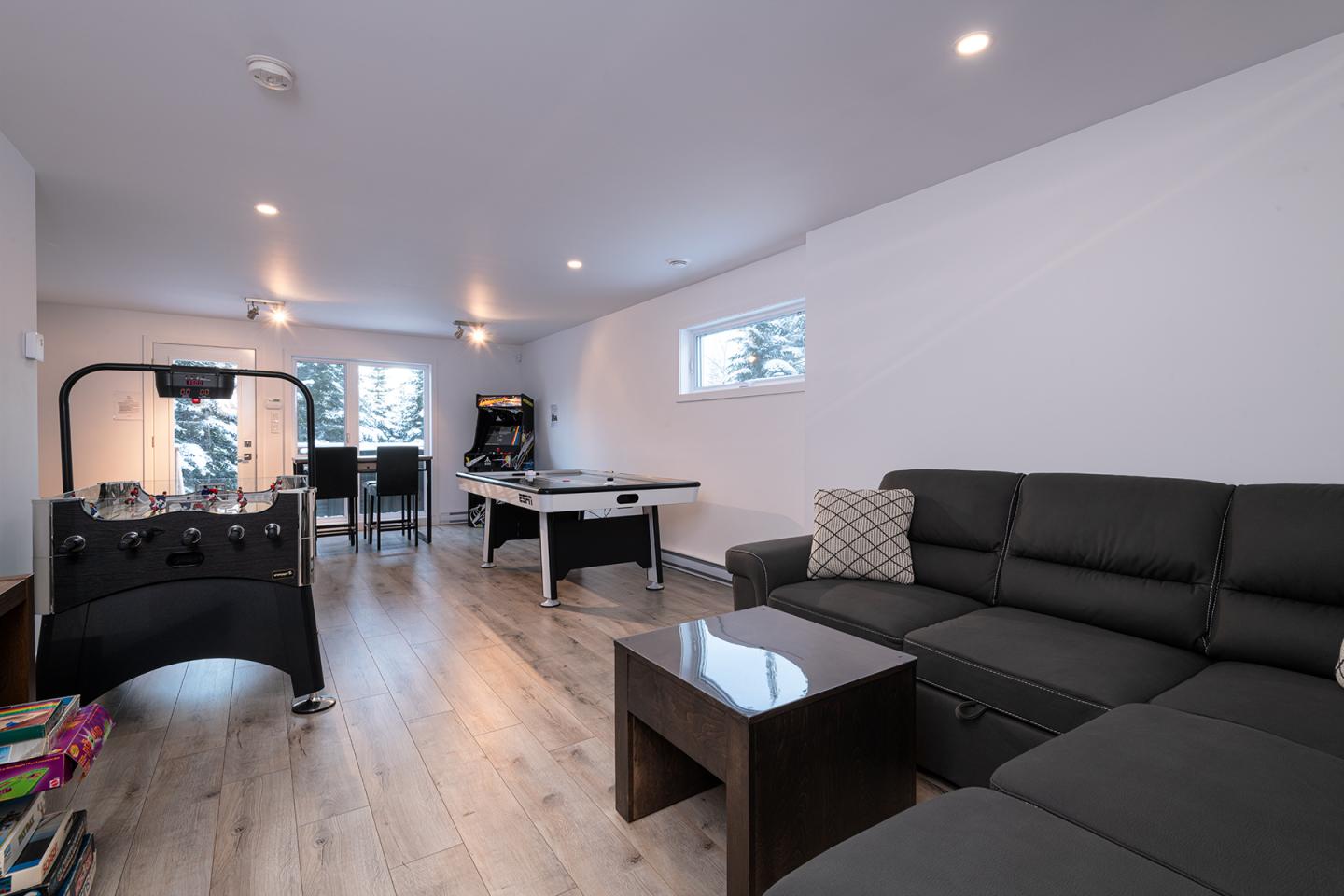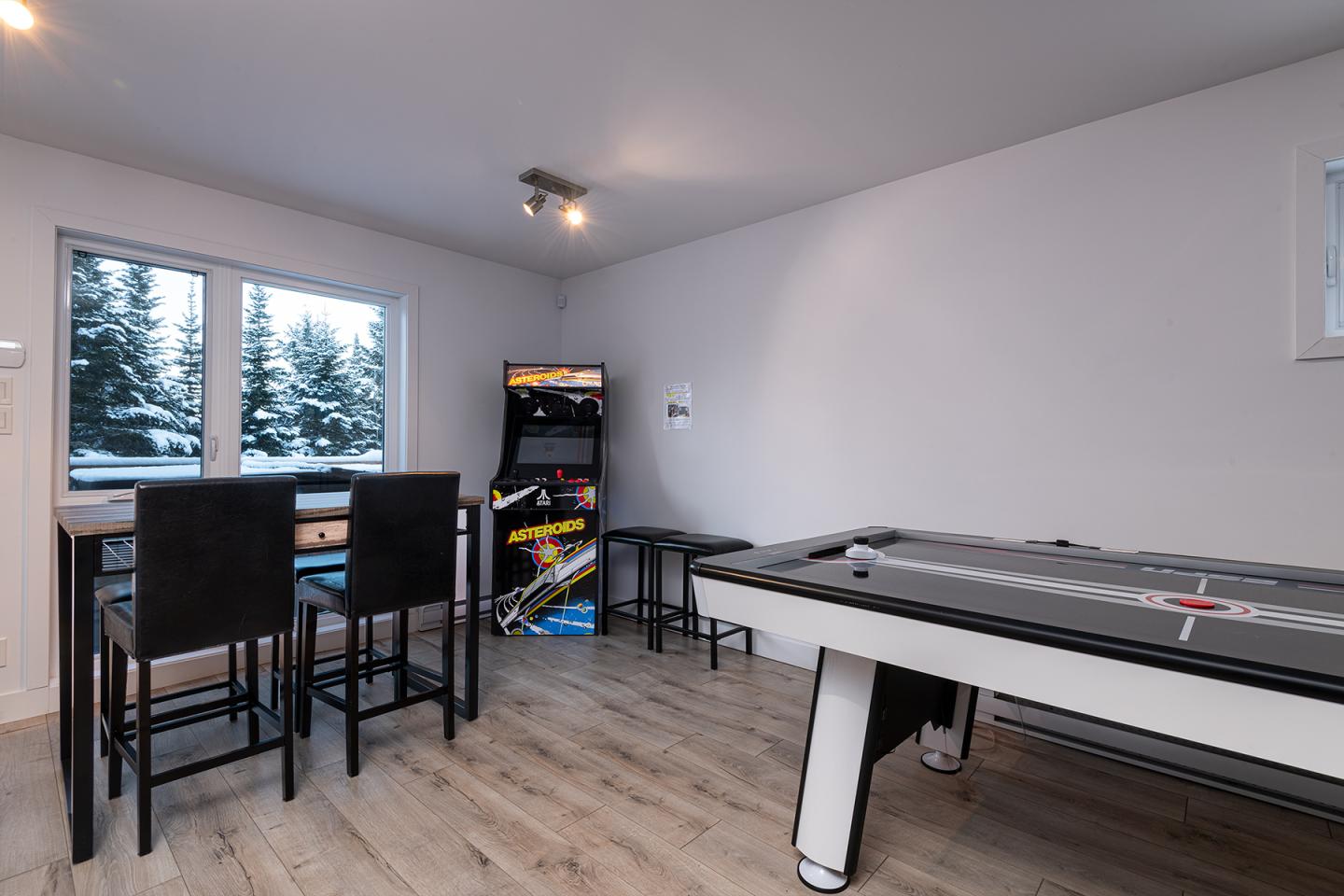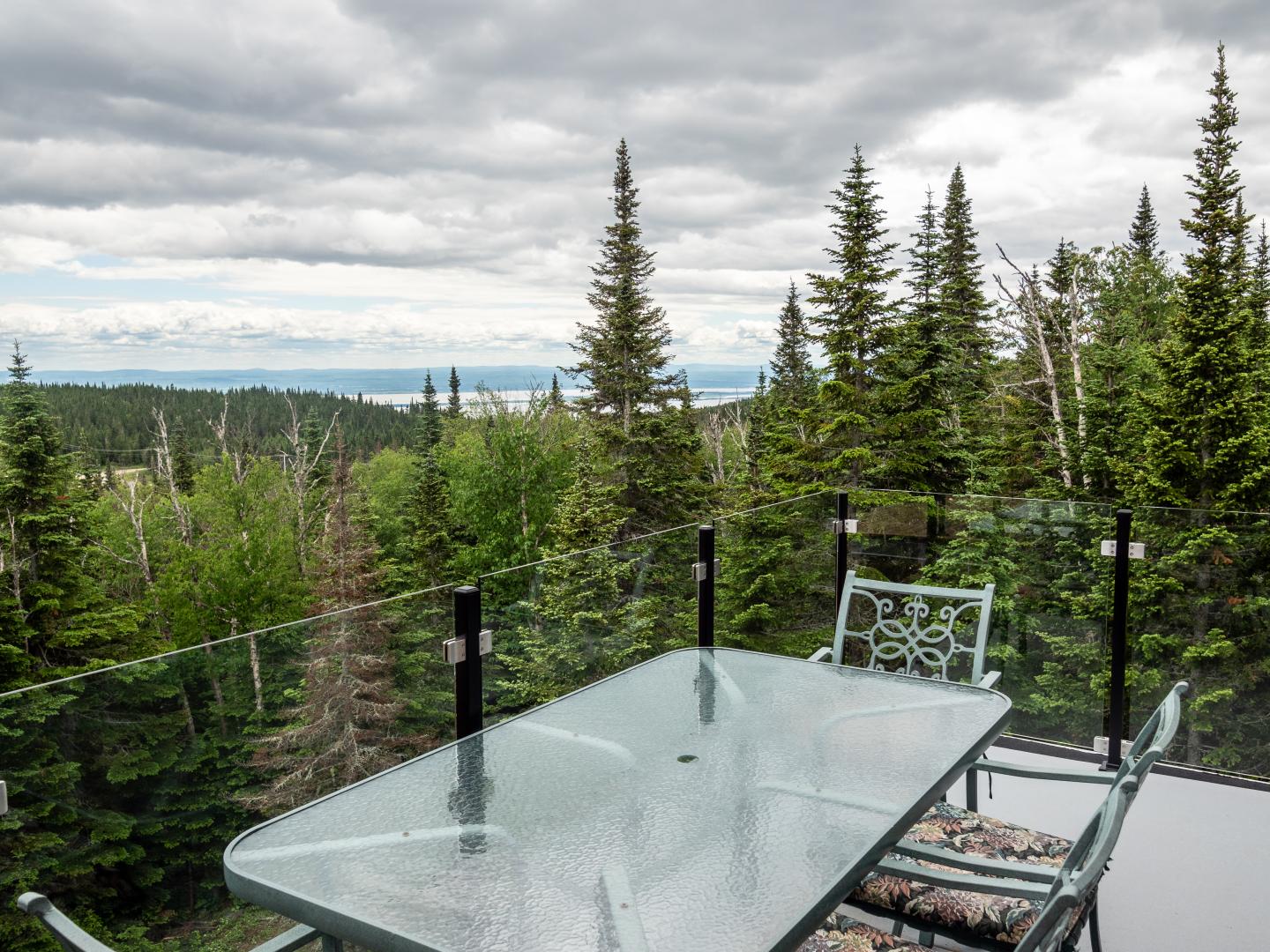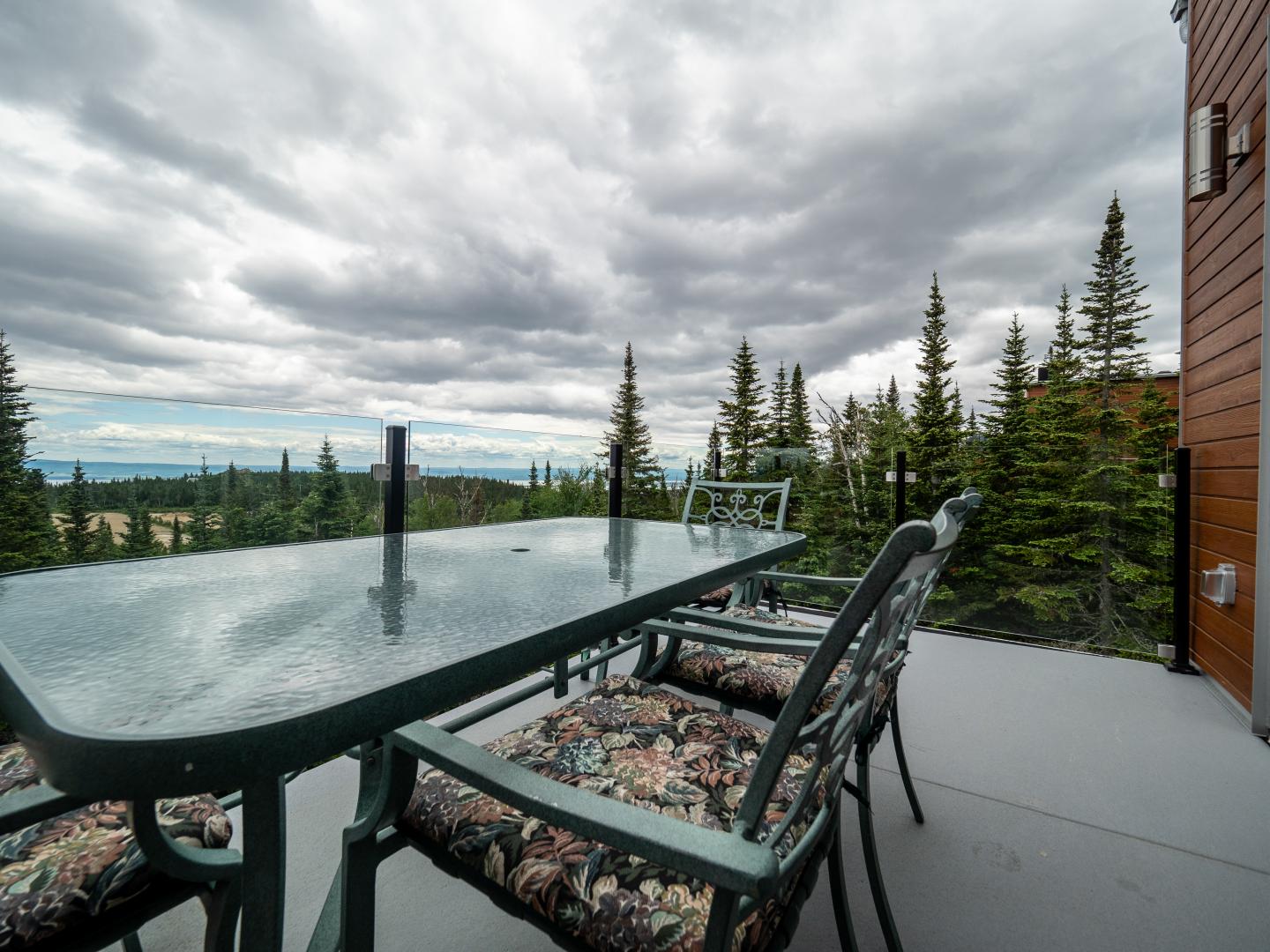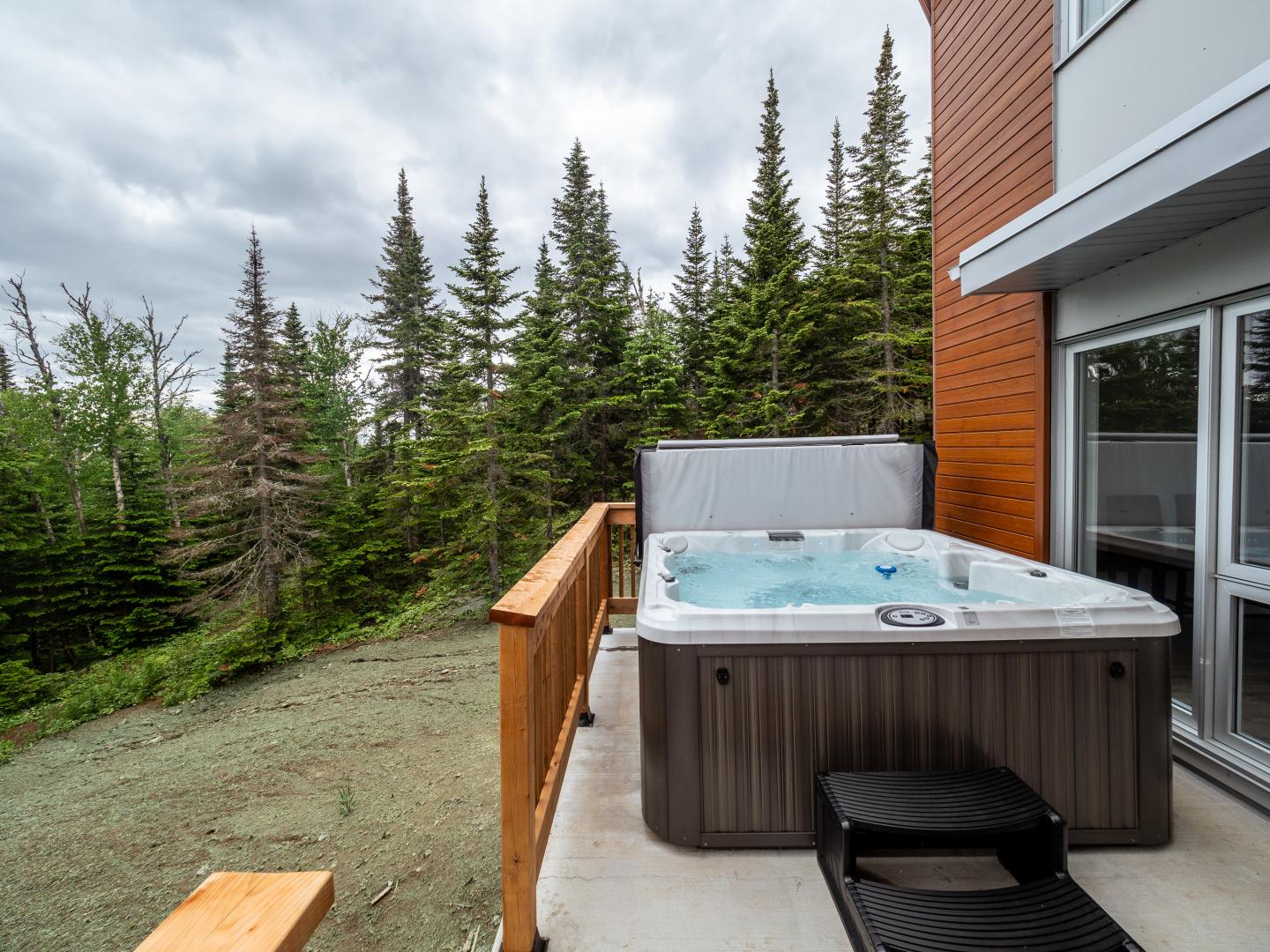 Equipment
Fully equipped kitchen : cookware, dishes, utensils, assorted glasses, microwave, quadruple toaster, filter coffee maker, Keurig coffee maker, electric can opener, small counter oven, Crock Pot, electric fondue pan, raclette pan (extension available);
Refrigerator with external water and ice dispenser with EveryDrop filter;
Dishwasher: 
Air conditioning and air exchanger; 
Cleaning products provided for the duration of the stay; 
Sanitary paper, paper towels, facial tissue provided for the start of the stay; 
Bedding / towels provided; 
Washer / dryer, soap provided; 
Air conditioning
Hair dryer, iron and small ironing board; 
Vacuum cleaner - battery broom; 
Fireplace (Logs not included)*;
BBQ on terrace with panoramic view of the river (BBQ out of service from October 1st to April 30th); 
Private SPA with 6 places (open year round) facing a superb wooded area; 
WI-FI Internet, 50 inch 4K UHD Smart TV, Bell Fibe; 
50 inch HD TV with  DVD player with various movies (over 100 DVD's) at your disposal; 
Various board games;
Air hockey table for 4 players (dimension 48 X 84 inches) and equipped with a stopwatch and electronic score counter with several fames modes)
Arcade machine with more than 3000 thousand games in the years 70-80-90 
Outdoor shed to store your ski / snowboard / bike. 
*Only ecological logs without glue are allowed. Natural wood is strictly forbidden.
Nearby
Ski-in / Ski-out (within 400 meters of a ski access)
20 minutes from downtown Baie-Saint-Paul
45 minutes from the Casino de Charlevoix
60 minutes from Quebec City
Arrivals / Departures
The arrival time is set at 5pm in all buildings.
The departure time is set at 11am for all buildings.
Reservation
Reservation policy here
# CITQ304238
Cancellation
For customers traveling with new or existing direct bookings for stays in one of our accommodation, the following conditions apply:
Cancellation must be submitted in writing ahead of time to the owner and / or to the rental agency.
If the cancellation notice is received at least 31 days before the rental starting date, the down payment of [30 %] Wont' be returned in lieu of damages and the balance won't be debited from your credit card.
When the cancellation notice is received less than 30 days before the rental starting date, all sums to be received will be charged in lieu of damages.
In the situation where the stay should be canceled or interrupted due to unforeseen problems with the building (water, electricity, etc.) the landlord's liability would be limited to the rental cost. The unused days would then be refunded, but no additional compensation would be granted.
Acceptance of this rental may sometimes be subject to the final approval of the building owner.  Examples: Incorrect price not conforming to the website AND / OR excess number of permitted persons, (unless these have been previously accepted by the latter), etc.