Les Chalets-forêt Jumelés
Chalet-forêt 6b
At the Summit
3 Rooms
2 Bathrooms
8 Guests
The Chalets-Forêt are perched in a coniferous forest overlooking the St. Lawrence Valley and offer a breathtaking view of the river and the mountain. The chalets spread out on several levels: the living spaces on the top level that offer a panoramic view and the bedrooms on the intermediate level with views on the forest.
Description
The unit offers the following opportunities:
Ski in / ski out (within 400 meters of a ski access)
Close to mountain bikes trails
Access to snowshoeing and cross-country skiing trails
Kiking trails nearby
Electric vehicle charging station
A magnificent view of the river
6 persons spa
Arcade machine
BBQ (May to October)
Fireplace (Logs not included)
WIFI 
Niveau 2 :
Open space : livingroom, dining area and kitchen for 8 persons
Equipped kitchen with island and radiant floor
Living room with large Queen sofa, HD flat screen TV with Bell, Bluetooth sound bar, Nintendo Mini-Classic game system (20 games)
Desk with river view
Powder room
Fireplace (Logs not included)
Balcony with river view
Niveau 1 :
Bedroom with 1 Queen bed 
Bedroom with 1 Queen bed 
Bedroom with 2 single bunk beds 
Bathroom with shower and radiant floor
Access to hot tub 6 persons 
Niveau 0 (MAIN ENTRANCE)
Cloakroom
Livingroom / Sofa / HD flat screen TV and Bluetooth sound bar
Playroom: Super Nintendo Mini-Classic system (20 games), 1 arcade machine and board games
Bathroom with shower and bath / laundry room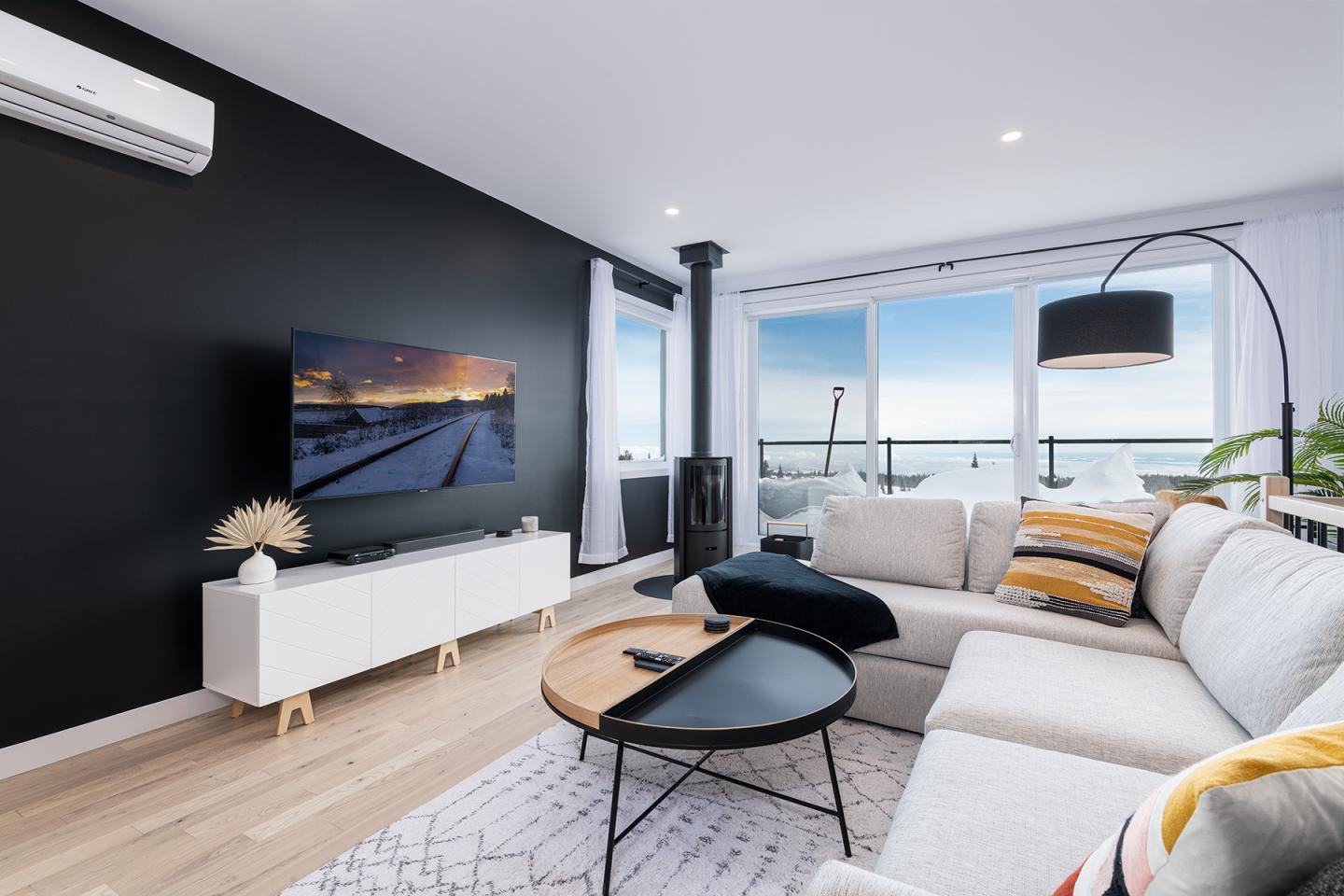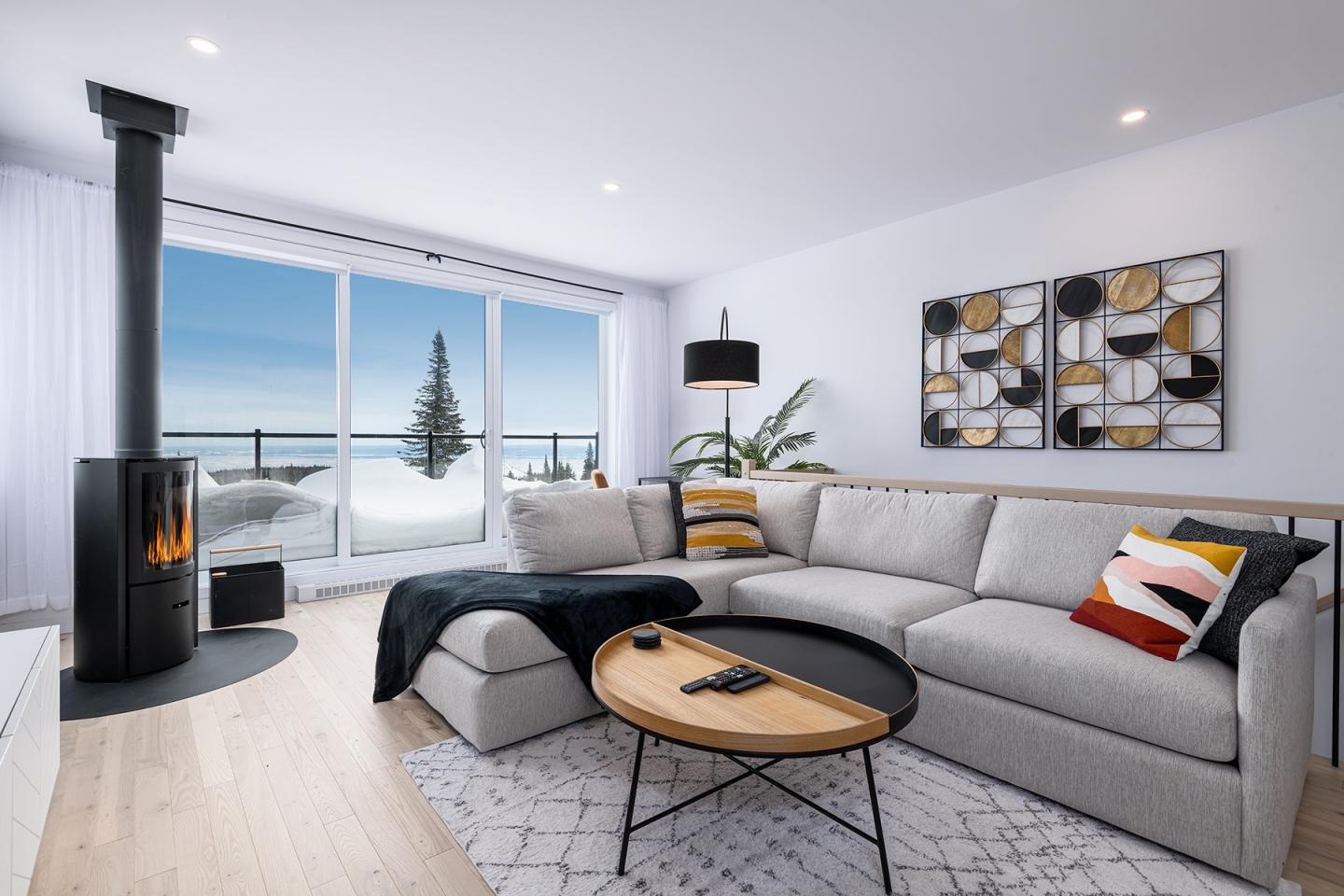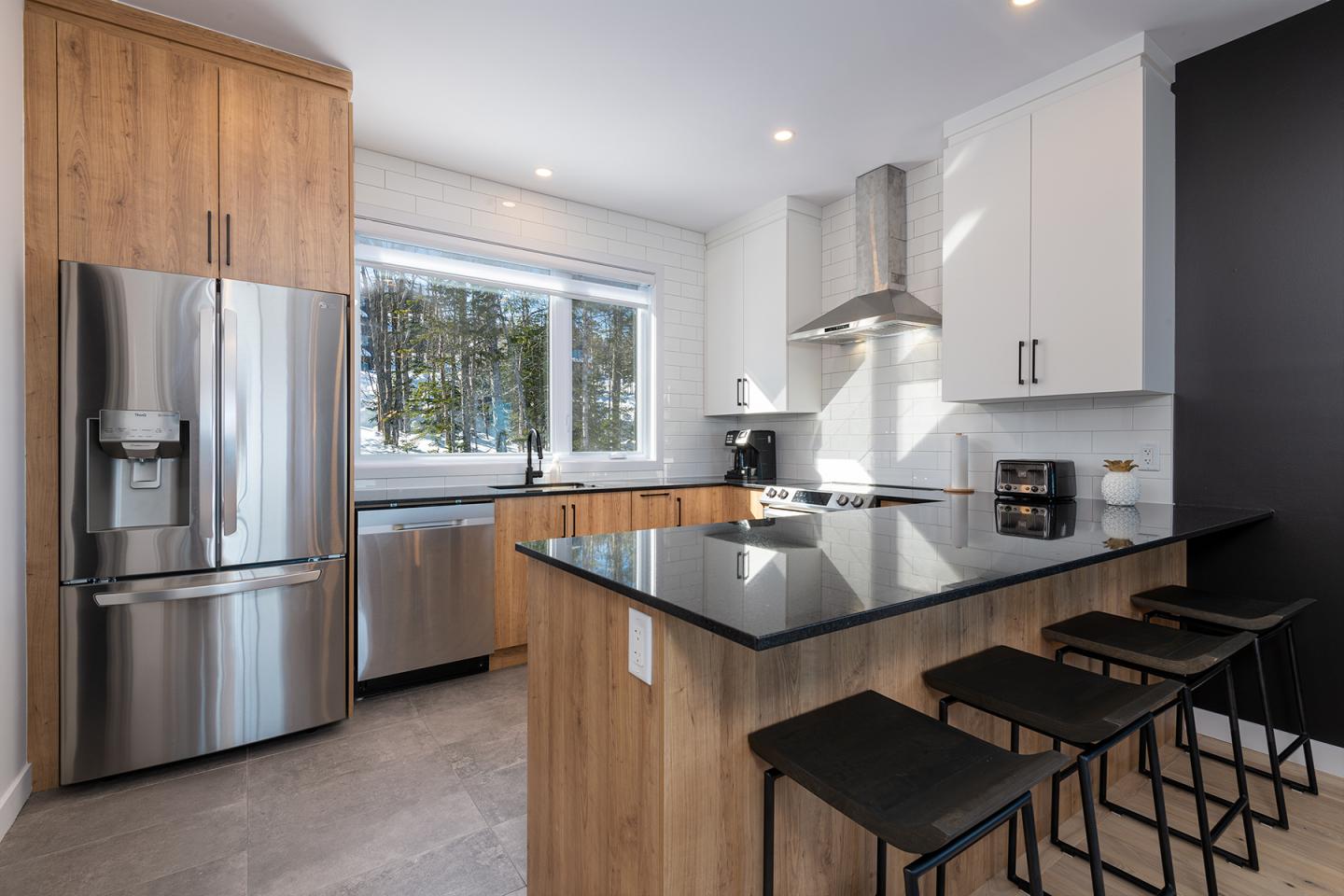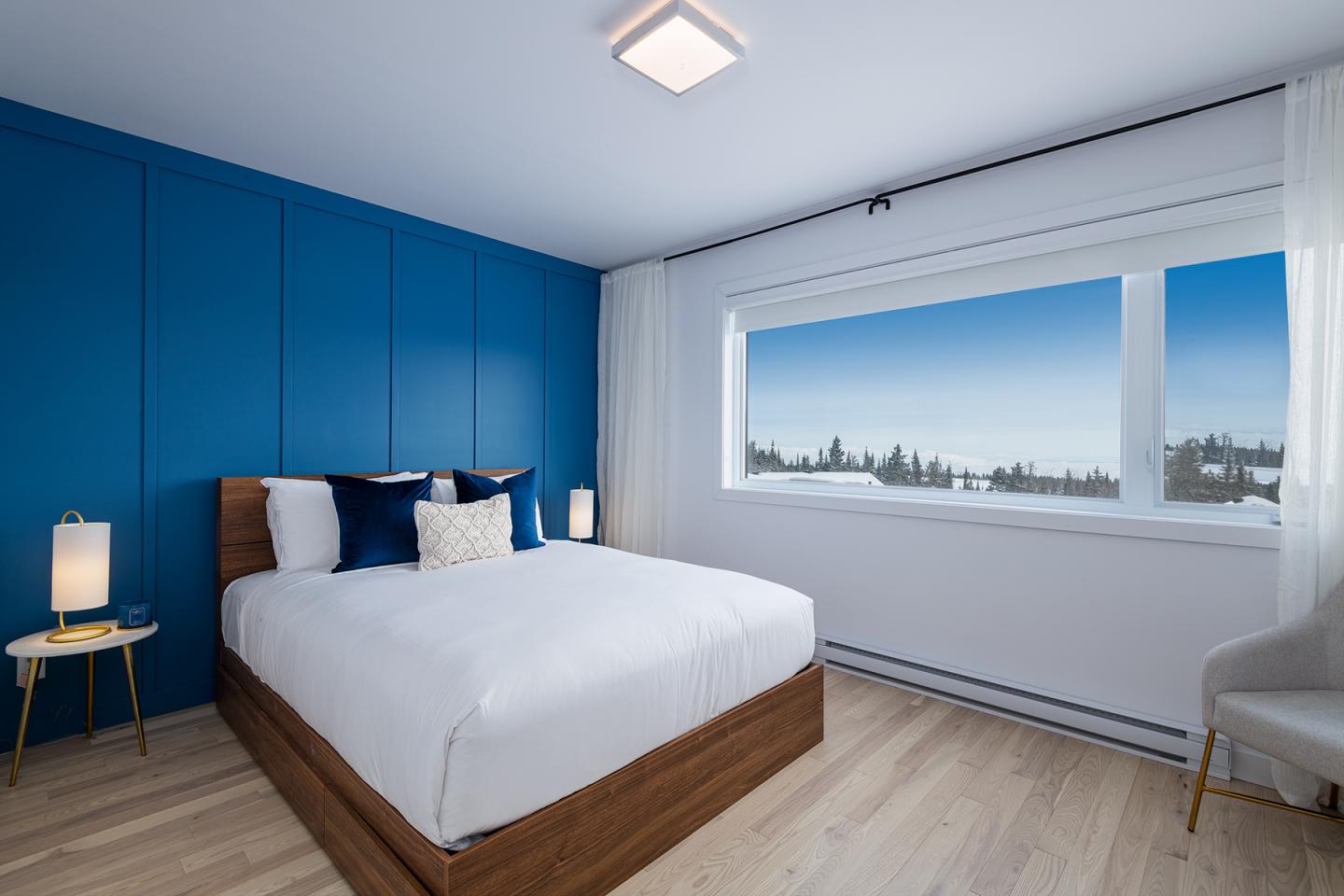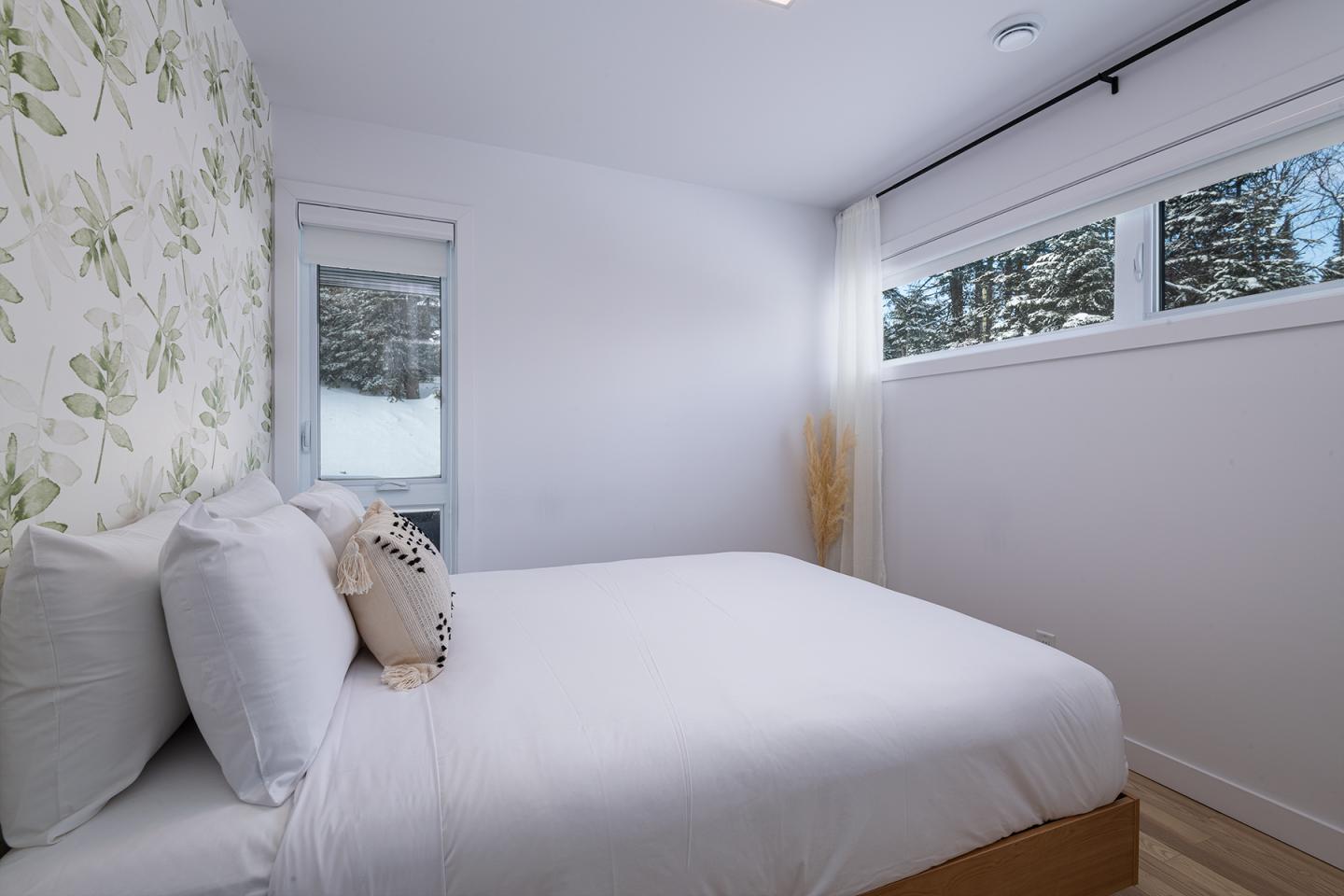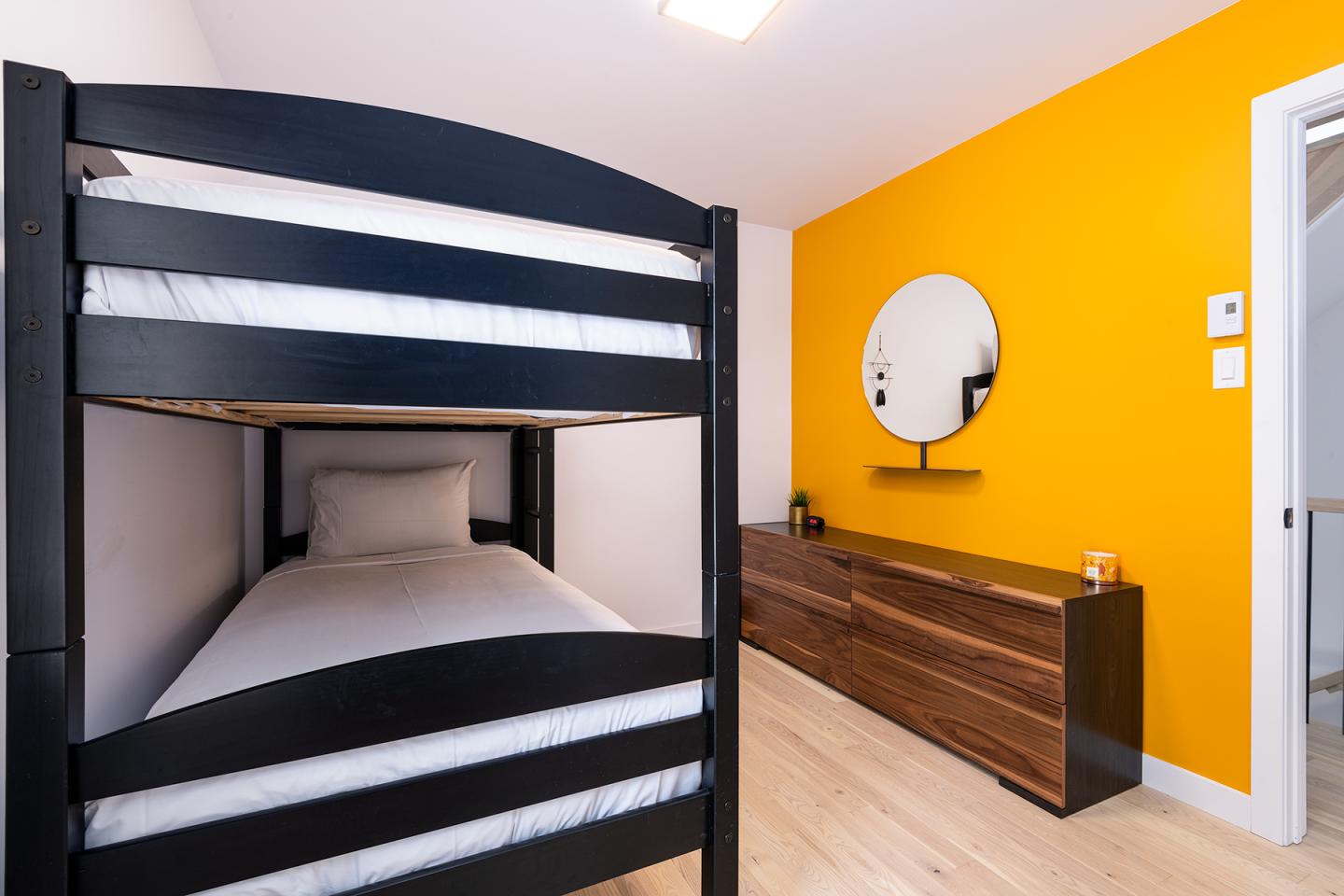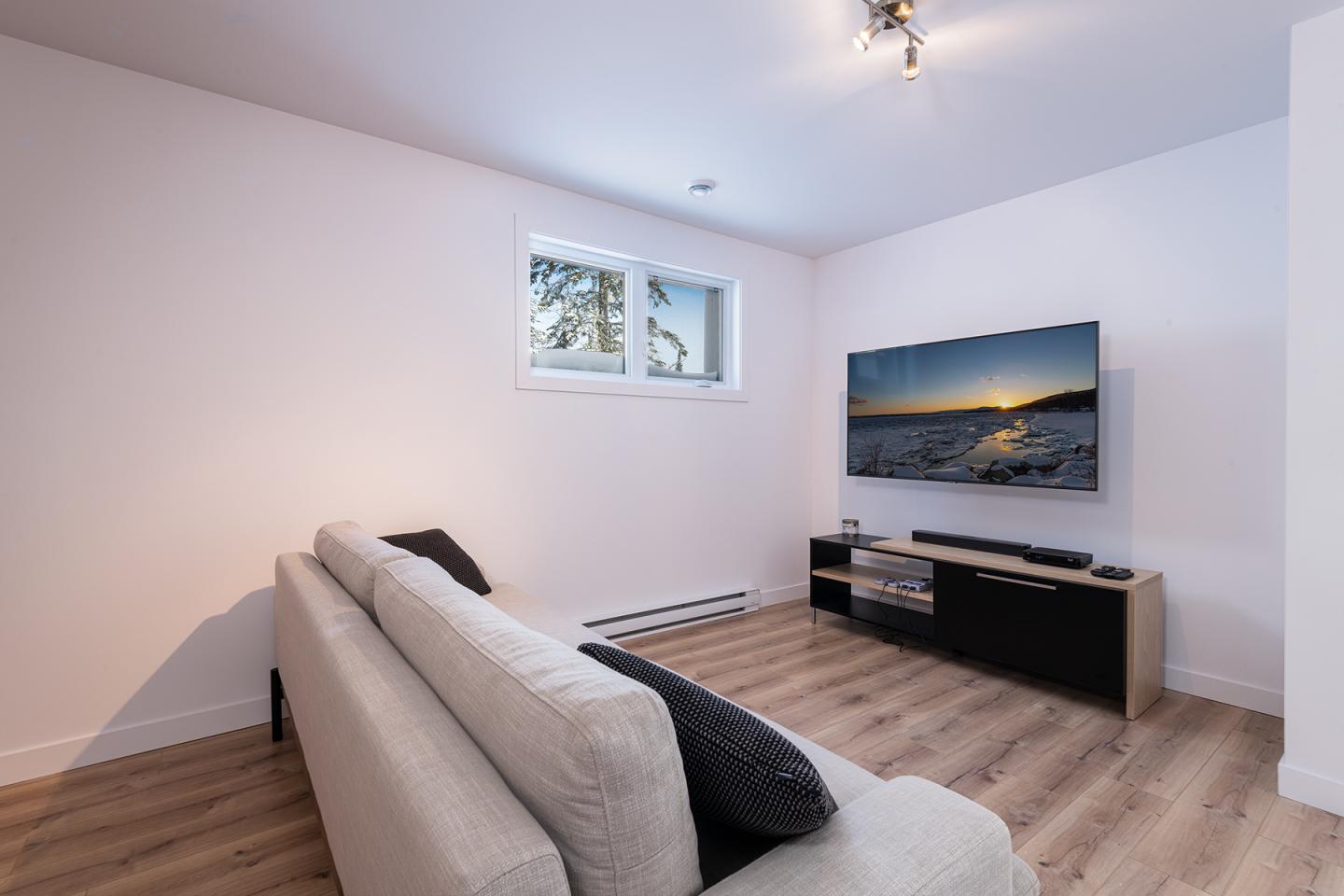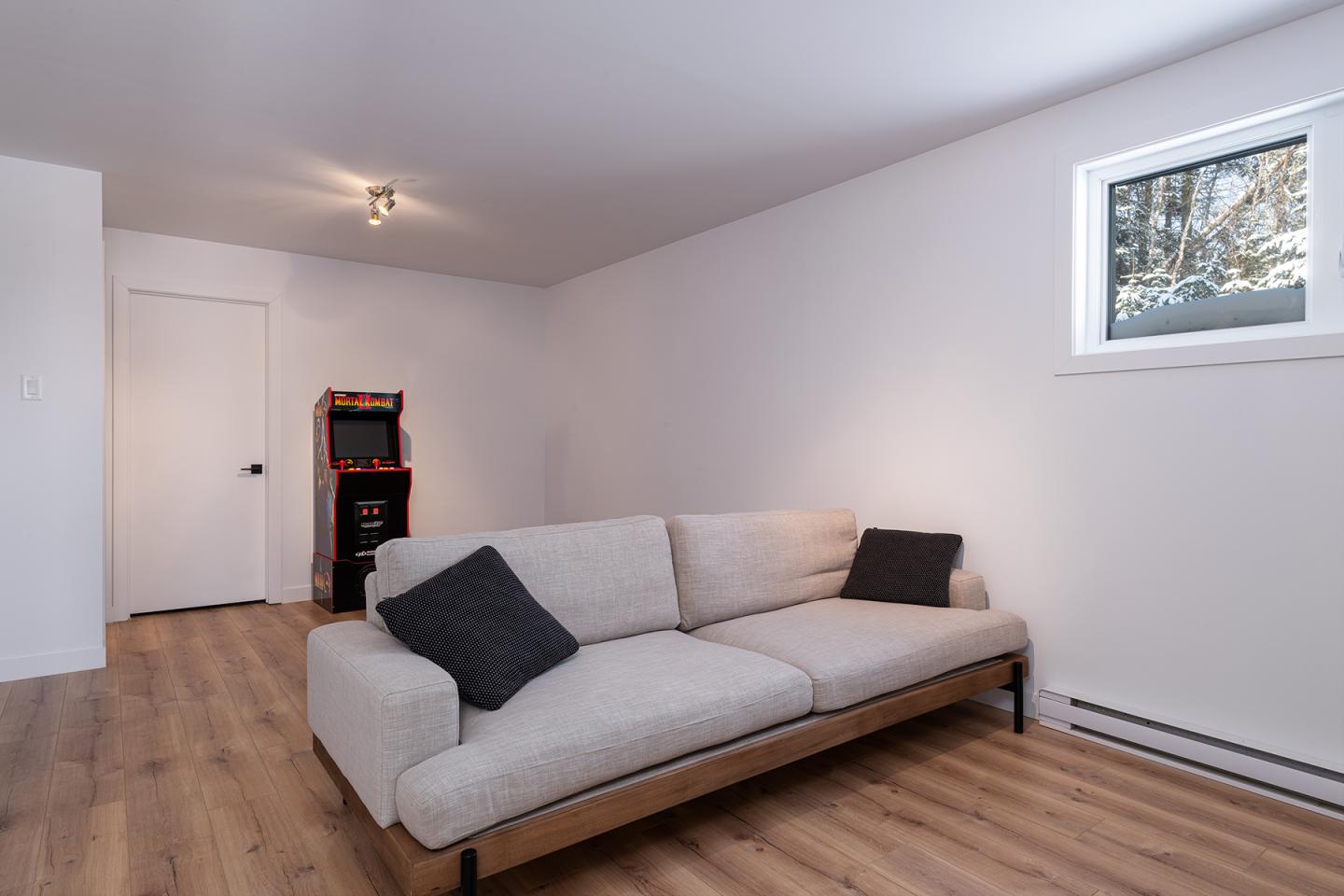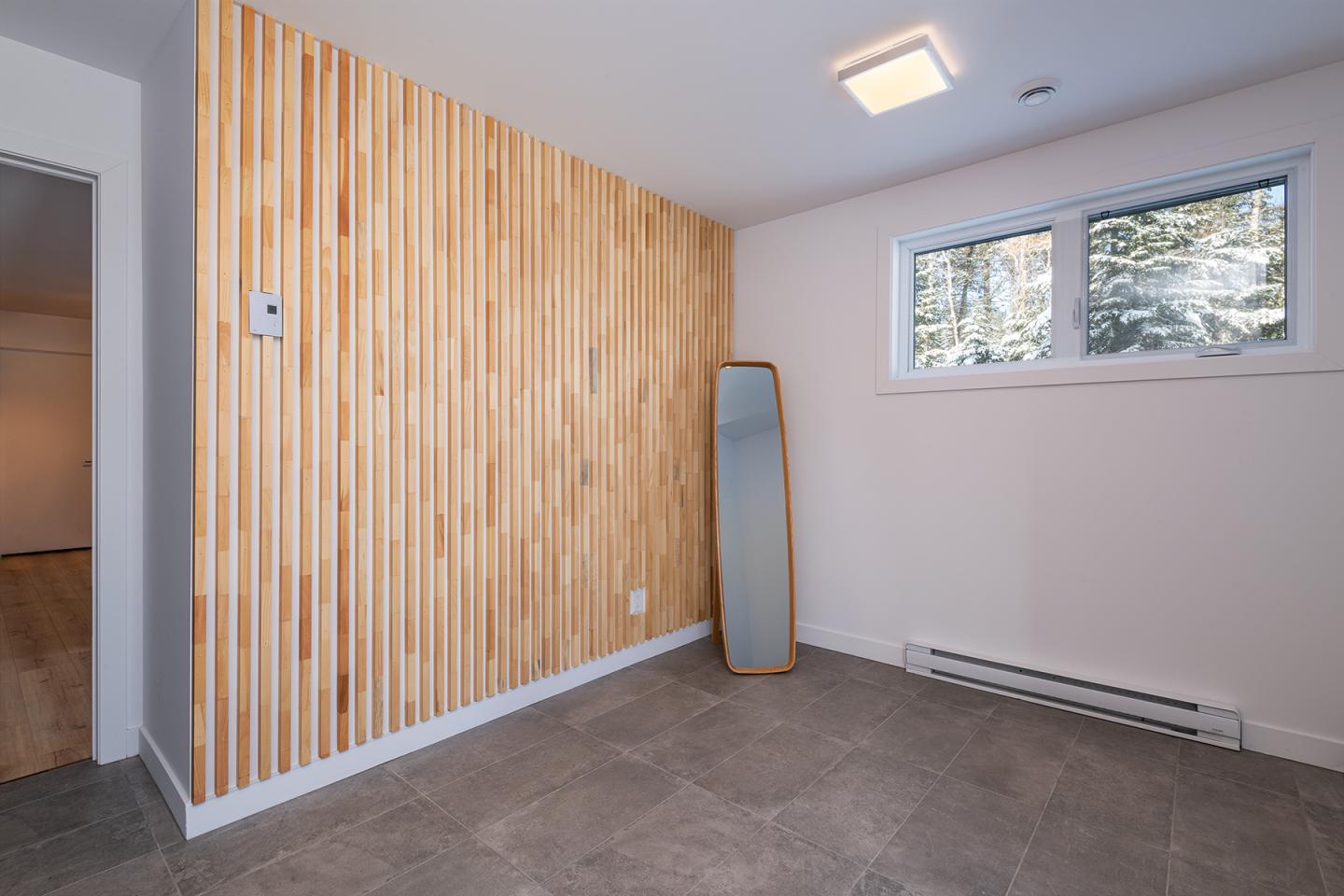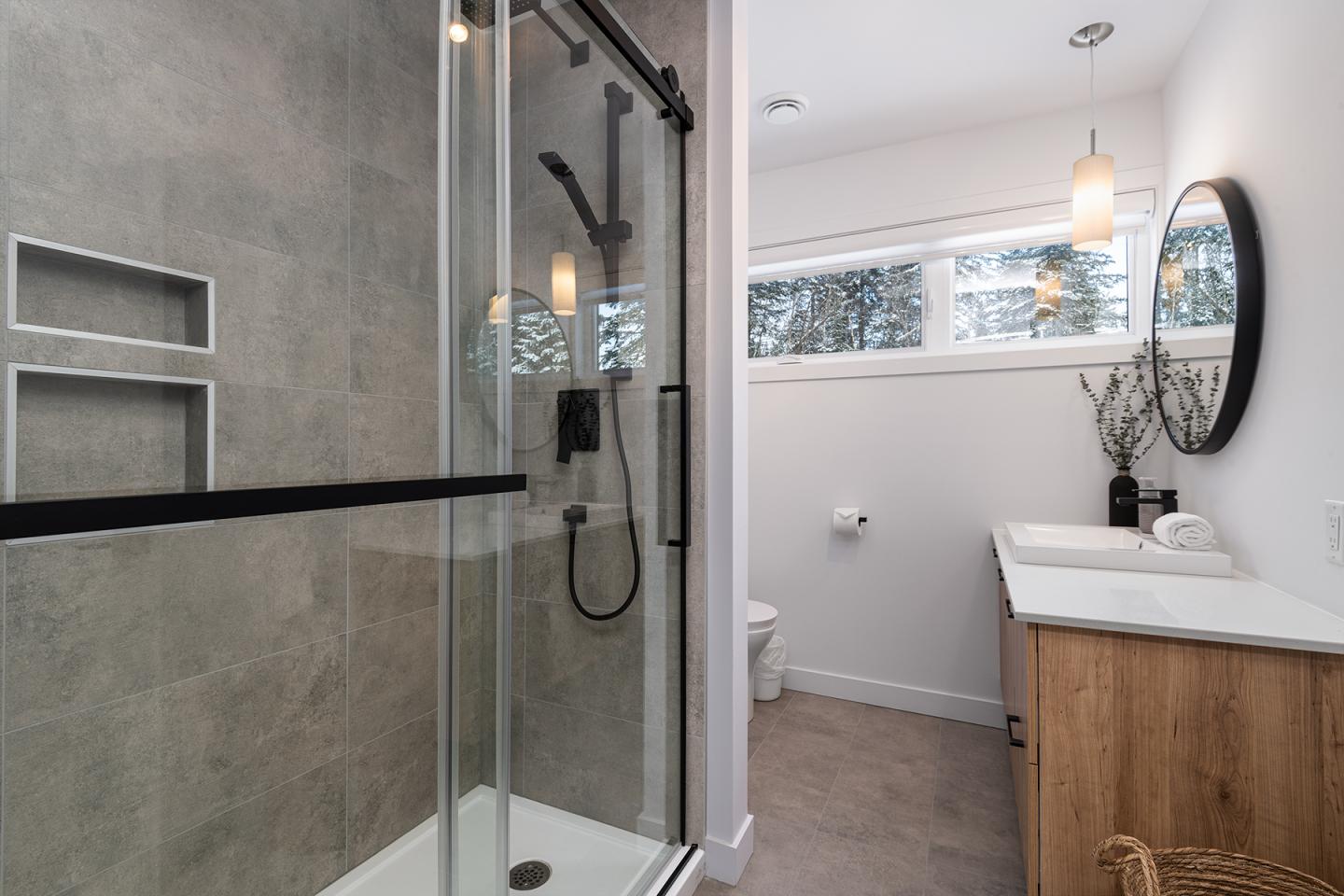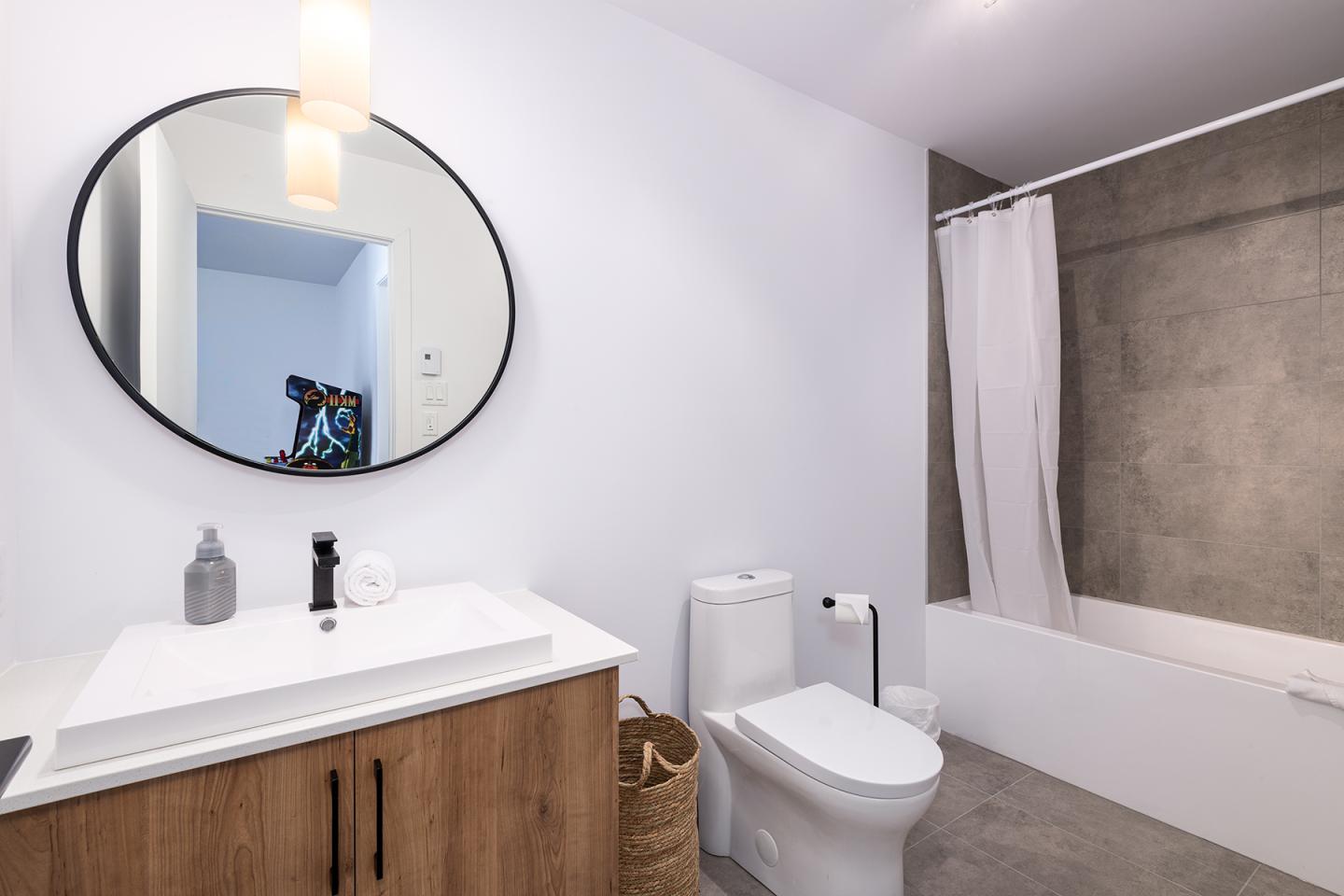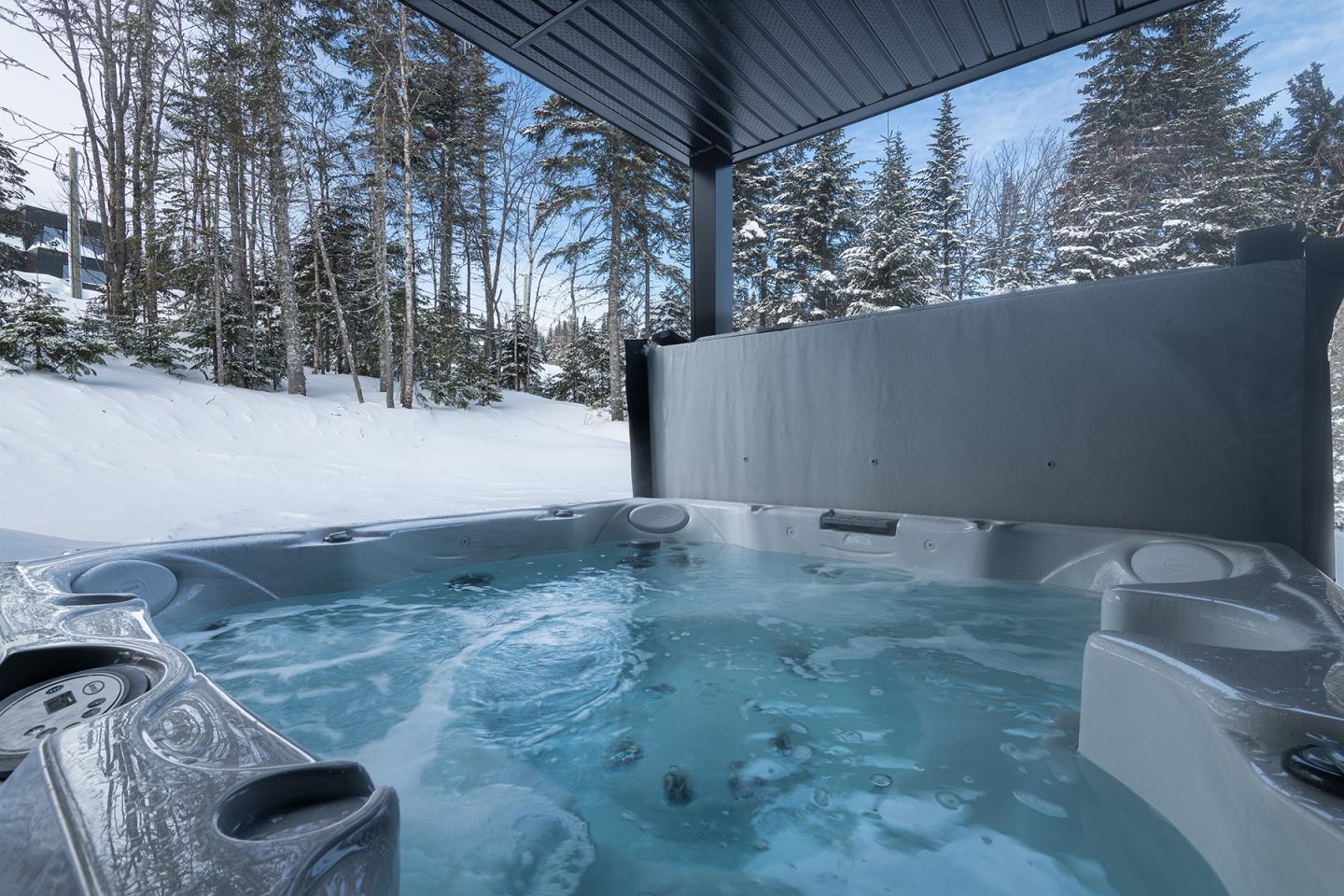 Equipment
Fully equipped kitchen (3 coffee maker options: filter, by the cup, Keurig style), fondue pot, raclette stove, slow cooker, microwave)
Charging station for a 240-volt electric vehicle
Cloakroom 
Toilet paper, tissues and hand paper provided for the beginning of your stay
Bedding and towels provided 
Central hoover
Washing/Drying machines, soap provided 
Dishwasher, soap provided 
Iron and ironing board
Hair dryer
Fireplace (Logs not included)*
Air exchanger and air conditioning
Internet WI-FI Bell 
2 HD flat screen TV with cable 
2 Bluetooth sound bars
Hot Tub 6 seats
BBQ (may until october)
Arcade machine / 2 Nintendo / Board games 
2 extra folding chairs
Air conditioning
*Only ecological logs without glue are allowed. Natural wood is strictly forbidden.
Nearby
Ski-in / Ski-out (within 400 meters of a ski access)
20 minutes from downtown Baie-Saint-Paul
45 minutes from the Casino de Charlevoix
60 minutes from Quebec City
Arrivals / Departures
The arrival time is set at 5pm in all buildings.
The departure time is set at 11am for all buildings.
Reservation
Reservation policy here
#CITQ308082
Cancellation
For customers traveling with new or existing direct bookings for stays in one of our accommodation, the following conditions apply:
Cancellation must be submitted in writing ahead of time to the owner and / or to the rental agency.
If the cancellation notice is received at least 31 days before the rental starting date, the down payment of [30 %] Wont' be returned in lieu of damages and the balance won't be debited from your credit card.
When the cancellation notice is received less than 30 days before the rental starting date, all sums to be received will be charged in lieu of damages.
In the situation where the stay should be canceled or interrupted due to unforeseen problems with the building (water, electricity, etc.) the landlord's liability would be limited to the rental cost. The unused days would then be refunded, but no additional compensation would be granted.
Acceptance of this rental may sometimes be subject to the final approval of the building owner.  Examples: Incorrect price not conforming to the website AND / OR excess number of permitted persons, (unless these have been previously accepted by the latter), etc.