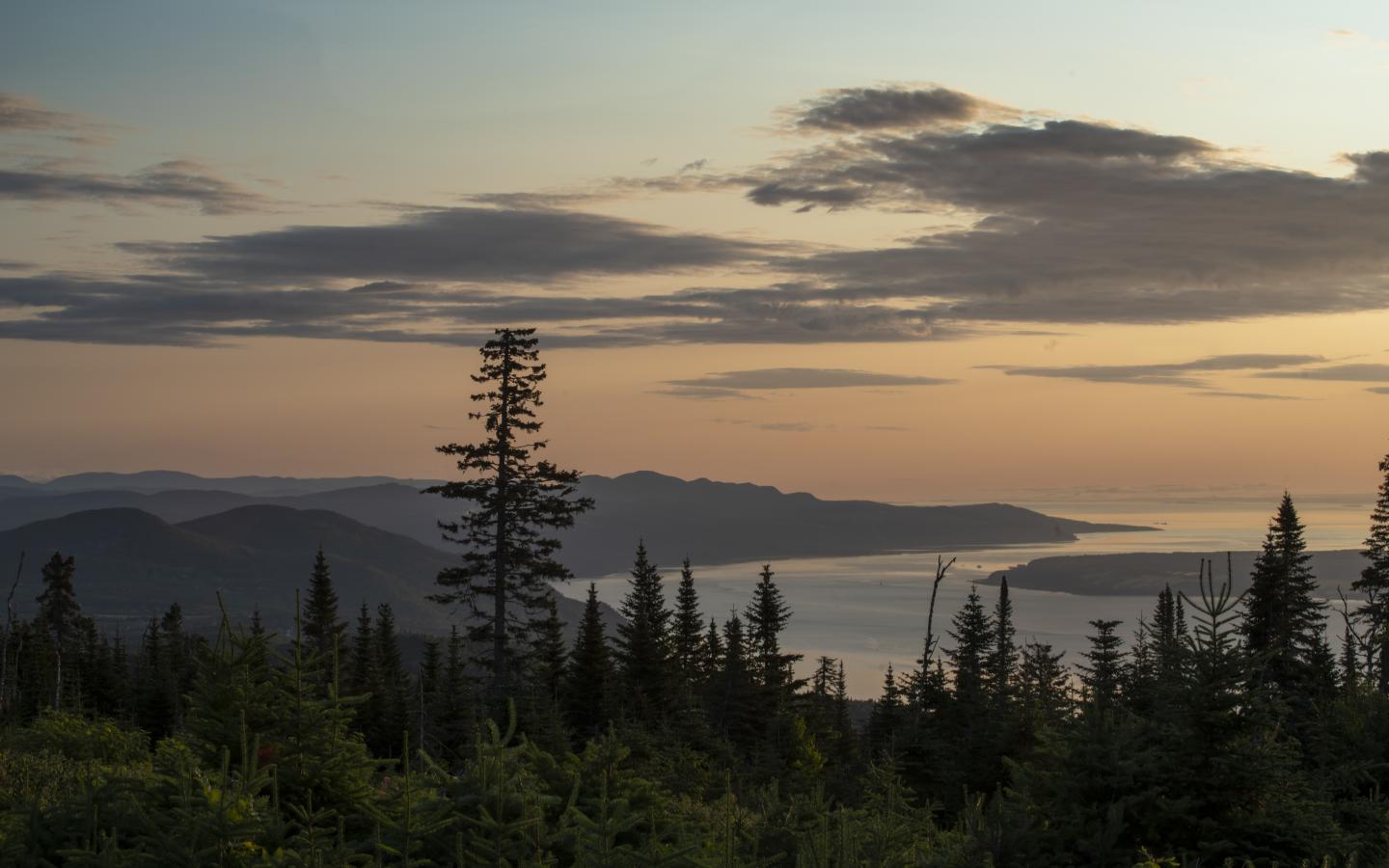 Sustainable development has always been at the heart of Le Massif Charlevoix's development vision: limiting the number of lodging units, densification of reception infrastructures in order to avoid deforestation, optimization of existing facilities, selection of activities with the least impact on the environment, reduction of residual materials, energy-saving construction certifications ensuring its sustainability.
For the years to come, we want to make commitments that reflect our mission and honor the pillars of our brand. Commitments that will not only define the touristic destination that represents us, but will also be a source of motivation and and inspiration to our employees, partners, community and
partners and future generations.
Our priorities
To enhance the effectiveness of our commitments, we will give priority to 4 actions within the next 3 years:
1.  4-season transformation of the mountain
In order to perpetuate the access to the territory for the generations to future generations.
2.  Sustainable mobility program
In order to allow the mobility of our guests and employees while aiming to reduce our environmental impact.
3. Support regional mental health organizations
In order to offer a better quality of life to the residents of Charlevoix with various mental health disorders.
4. Regional Accessibility Program
In order to promote healthy lifestyle habits among Charlevoix residents especially among the youngest.
1.  4-season transformation of the mountain
Our development vision calls for meaningful, small-scale and sustainable for
years to come. Development that will serve as an economic engine for the region, and create value for the province as a whole, becoming a recognized draw and world-class recreational and tourism destination.
Initiatives :
4-season programming adjusted to the
new climatic realities and  the expectations of the
tourist clientele in search of quality
innovative and authentic experiences.
Sponsor of the Prix Attraction at the
Gala Charlevoix recognizes, a category
which recognizes the power of attraction of a
activity, event or cultural / recreational
site.
Small-scale real estate development
to increase capacity to welcome the
tourist clientele while optimizing
occupancy.
Ongoing development of a strong
employer brand including
a distinctive proposition: year-round jobs on-site accommodation, etc.
2.  Sustainable mobility program
In order to encourage sustainable tourism we are putting in place various initiatives to
reduce the carbon footprint of our guests and employees.
Initiatives :
Implementation of an impressive network of
electric charging stations making Le Massif de Charlevoix one of tourism center with the most important networks of charging stations.

Collaboration with Mobilité collective Charlevoix for the collective transportation our employees between Petite-Rivière- Saint-François and Baie-Saint-Paul.

Pilot project with Alstom to put on tracks the first zero-emission train in America.

Addition of electrically assisted recreational vehicles
to get around the mountain and its surroundings.
3. Support regional mental health organizations
We care about people's health, which is why our organization wants to improve the conditions for people with various mental health issues in the  in the region.
Initiatives :
Promotional support for Bell Let's talk on its annual theme day
every year in January.

Creation of the Défi l'Appel de la montagne
presented by Bell Lte's talk with all proceeds going to local mental health and addiction organizations.
4. Regional Accessibility Program
This social commitment will be a natural extension of our corporate mission which is to "encourage healthy lifestyles by developing a love of sports, particularly among people in the region, especially among youth".
Initiatives :
Resident's days for
Petite-Rivière-Saint-François

Discounted skiing on a Sunday per year
Free gondola ride one
Sunday per year

Support for Horizon
Charlevoix

Financial support for the organization

Club Med discount

20% discount on the
day pass for
Club Med day pass for all Charlevoix residents,
depending on availability

School programs

Specific programs for Petite-Rivière-Saint-François Elementary School and Baie-Saint-Paul High School
Programs offered to schools in the region and province

Support to clubs de ski

Supporting the organization of
regional and provincial races
of Le Massif de Charlevoix clubs

Subscription reciprocity between Mont Grand-
Fonds and Le Massif de Charlevoix for several days in January
Other daily green commitments
Green Committee: actions
chosen and undertaken by
our employees to
preserve and promote
the uniqueness of the territory
on which Le Massif de
Charlevoix is located
Continuous improvment
of the systems reduction and and management of waste management systems
Solar-powered lighting
in some residential areas

Club Med: 

Breeam certification,
Prix Construire of l'Association
de la construction du Québec

Raising awareness on the fragility of the inhabited forest of le Massif de Charlevoix and its rich and unique ecosystem classified as a World Biosphere by UNESCO